I love costumes. Finally getting to wear the costume that a crew of incredible theatre mom/seamstress-extraordinaires lovingly crafted is one of my favorite parts about performing.
I've gotten the opportunity to perform in some beautiful and ingenious musical theatre dresses: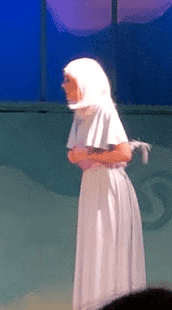 Just for fun, I decided to share a little over a dozen of my favorite musical theatre dresses ever to hit the stage. Let me know in the comments what dresses I've missed👗!
Let's start this off strong with:
1. Tsarina Alexandra Feodorovna's ball gown from Anastasia.
Designed by Linda Cho, the royals' costumes for the opening sequence were inspired by actual photographs and portraits of the royal family [1]. She mentions that "even with period pieces, you have to make sure that you're telling a story, and that the look of the clothes are understandable and appealing to the modern eye. Something that might have been attractive in 1907 may not have the same appeal to the modern eye. So you do a lot of cheating. You do whatever's necessary to tell a story."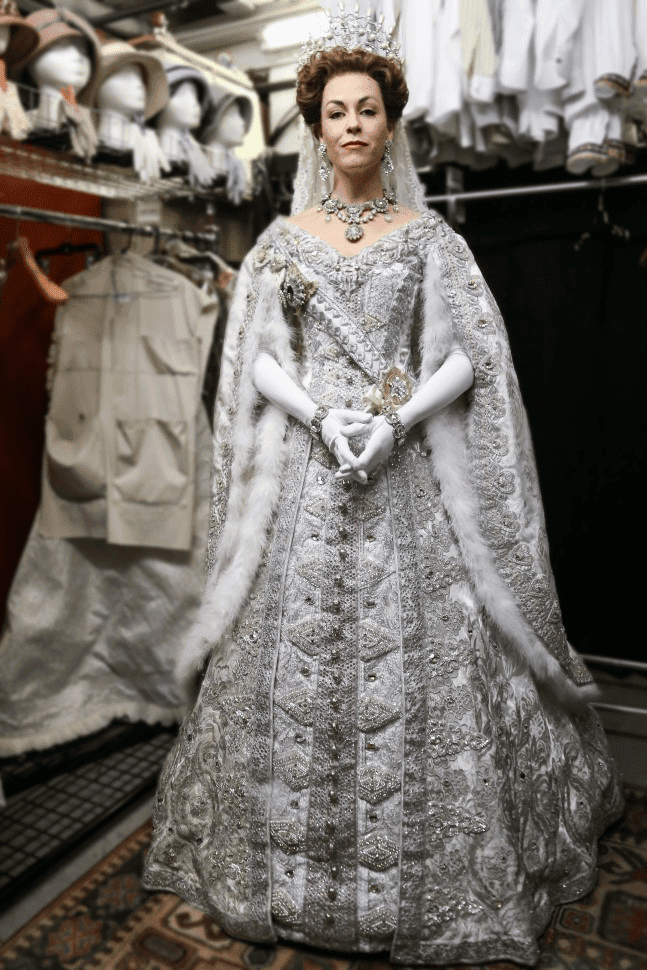 Her 50-pound dress and eight-inch crown are absolutely stunning.
When the actress who plays the Tsarina, Lauren Blackman, moves across the stage, she literally has to toss the gown's gorgeous train out of her way (which I think adds even more to the larger-than-life mother figure that she is to Anastasia).
I'm going to be honest though, the entire time I watched Anastasia, I could not stop thinking about how hot it must be under their thick Russian-inspired coats, petticoats, and gowns.
Regardless of the heat, the drama of this dress intrigues me, and I would love a go at acting in it!
Shorter, but just as ruffley & fabulous to look at as the Tsarina's dress is:
2. Christine's "Don Juan Triumphant" dress from The Phantom of the Opera.
I mean, that thing has frills. Maria Björnson, the costume designer for the original production of Phantom, was inspired by the styles found in Spanish folklore.
Each of the pastiche 'operas' were given a distinct color palette:
"Hannibal:" red, green, and golds
"Il Muto:" Easterish colors
"Don Juan:" earthy tones, black
Christine's dress is made of "silk taffeta with contrast embroidery and a brocade stomacher" [2]. It has this flirty bounce to it which is so fun to watch. Not to mention the sassy black boots! Certainly a lot of thought was put into the mood this dress represents.
I mean, come on. Black lace = adultery for sure.
Black ribbons, however, are simply classy, which leads me to my next musical theatre dress pick:
3. Eliza's Ascot Gavotte gown and hat!
Designed by Cecil Beaton for the 1964 movie, My Fair Lady, this iconic Hepburn dress (and hat!) is often lovingly recreated by theatres performing the musical!
I assume that Beaton crafted the stunning contrast of the black and white and the juxtaposition between the snug silhouette and looming hat to parallel Eliza's situation:
she is not truly an aristocrat, but a fun-loving street urchin.
Derby hats are fabulous. Symbolic derby hats are ingenious!
4. Janet van de Graaff's lacey lavender nightgown.
Lavender is my favorite color. My wedding had so much lavender. My nails are painted lavender right now. Love it.
Mix my favorite color with a glamorous nightgown and a hilarious song ("Bride's Lament") from The Drowsy Chaperone, and you get a gown that I would love to perform in.
[4]
The long, sheer sleeves are so dramatic. Designed by Gregg Barnes, this dress absolutely encompasses the extra-ness of Janet who is clearly not ready to give up her life of glamor to tie the knot.
The nightgown is just as much of a star as the character dressed in it as Drowsy won the Tony for best costumes in 2006! I adore the entire mood of Drowsy, and the costumes are really the icing on the cake to the colorful story.
Next up: the winner of the Tony Award for best costume the previous year . . . The Light in the Piazza.
5. Clara's blue dress from The Light in the Piazza
It's just so lovely and flowy.
It's much simpler than any musical dress on this list so far, but I think its simplicity complements the childlike innocence of Clara's love for Fabrizio.
This quote really sums up the beauty contained in the overall design of The Light in the Piazza: "when Catherine Zuber's period costumes are paraded past the shifting arches and facades under Christopher Akerlind's autumnal lighting, the result is visual music as ravishing as Guettel's actual music" [5].
The airy quality of the music Clara sings and her dresses are a beautiful pair. Her pearls and straw hat are also a 50s feminine touch I love! 
Another glamorous period theatre dress I ADORE is
6. Bonnie's outlaw ensemble from Bonnie and Clyde.
Tobin Ost's transformation of Bonnie from a pink-wearing waitress to a dark red criminal and lover is inspired.
Their final costumes are even incorporated into the storyline:
Clyde steals the red outlaw ensemble for Bonnie
Young Clyde mentions that he wants to wear Sunday clothes all the time
SPOILER alert: Bonnie and Clyde die.
[6] Their clothes indicate to the audience that Bonnie & Clyde got what they wanted–and had to eventually pay for it, dying in those nice (stolen) clothes.
I absolutely love how form-flattering the dress is and how true to one of the real Bonnie's dresses it is:
Okay. So if you've seen the show, then you know that technically, that "dress" is really just a blouse and skirt combo that meld together nicely.
Since I've already cheated a bit and included a semi-dress on my list, I might as well go all out and share my favorite close-to-a-dress-but-not-really musical costume:
7. Heather Chandler's plaid skirt + blazer!
Amy Clark, costume designer for Heathers, says this outfit is not 100% true to the 80s "[the clothes] needed to be able to transcend reality, so things are a little extra tight, things are a little extra short, it's not a documentary of 1989, it's definitely a theatrical interpretation of it" [7].
I was not alive in the 80s, so they could've fooled me!
To make sure that the actresses were able to dance comfortably in the costumes and keep to her color palette, she built "all the blazers for Veronica and the Heathers." Shoulder pads and all.
My favorite part about Heather Chandler (and all of the Heathers' costumes) are the socks and oversized scrunchies. Talk about accessorizing. There's just something so egotistical and evil about wearing knee-high plaid socks with a miniskirt that I just can't explain.
In case you're curious, you cannot order the scrunchies on Amazon. (Though you can come pretty close!)
They were made specifically to be "a good scale for the stage. It was definitely a little larger than it would be in real life, but again that's kind of similar to the skirts being shorter and the jackets being so nipped at the waist and big in the shoulders. Everything has to have enough of a theatrical presence that the whole language of the show makes sense."
Just killer.
Another villain costume that rocks my socks off (pun intended) is
8. Ursula from The Little Mermaid.
[8] I mean just look at those tentacles. To be honest, I'm not a huge fan of Ariel's costume (she has a tail but also scales on her legs?). Designer Tatiana Noginova caught a lot of bad reviews for the Heelys and her more artistic decisions, but the entire dark design of Ursula's lair accented by the glow-in-the-dark effects is really mesmerizing to me!
Not to mention, "Poor Unfortunate Souls" is one of the best Disney villain songs (imho), and getting to sing it while incorporating some spooky tentacle choreography (lol gross🐙)sounds like a great challenge!
Another Disney costume I absolutely adore is
9. Anna's from Frozen.
Though I much prefer the animated film's treatment of Anna's character than the OBC, her gowns are still beautiful.
Anna's coronation gown made by Eric Winterling "is a silk taffeta take on its movie counterpart, with enhanced dimensional embroidery in satin and organza" [9].
The show's set and costume designer, Christopher Oram, shares some neat thoughts about animated costumes being transformed into real-life ones:
animated garments behave without the effects of physics and gravity, and they have to be simplified; their shapes are slightly reduced on the physical bodies that people have in animated features, which are slimmer and more delicate—without hips, generally. Real garments have to accommodate actual humans. But you can also put a kind of detail into them that isn't so easy to achieve on an animated garment; we've been able to get much more specific with the embroidery, because we don't then have to redraw it in every single frame.
I can't decide which I love more, the flouncy skirt on this dress or its intricately embroidered bodice. The fabrics in this show are just dreamy. The taffeta on Anna's gown, the fur on Kristoff's outfit, the velvet of Elsa's cape, the SPARKLES on Elsa's "Let it Go" dress. [9]
When do I get to be a Disney princess? If anyone out there has the power to make that happen, lemme know!
10. Jane Eyre: not a Disney princess, but still great.
After reading Jane Eyre about a year ago, I fell in love with the Victorian Era. The architecture, the monarchy, the clothing, the BRONTES–everything.
It's only natural that I should include Jane's black gown on this list because, well, I would love to perform in it!
Andreane Neofitou beautifully captured Charlotte Bronte's vision of plain Jane humbly donning black, modest gowns. She had this to say specifically: "for me, it's never a matter of doing pretty costumes. I'm trying to bring a world–with period pieces, specifically, it's an alien world–to modern audiences, to make that world the present. I don't want to have a barrier between the audience and what's going on onstage. You have to make that costume so familiar, so real to that character, that the audience doesn't see the costumes, it sees the character" [11].
This attitude toward period pieces (and well-known costumes like Frozen's) seems to be held by many costume designers.
They strive to be true to the characters and time period in a way that modern audiences will understand.
Another dark dress that would be a dream to wear:
11. Elphaba's "Defying Gravity" gown!
Costume designer Susan Hilferty was inspired by the earth when creating the iconic Wicked dress. "Elphaba, who is always firmly planted on the earth, I have her come from the earth. The dress isn't black, it has many colors in it—the same way that mica or coal or jewels, when you think of mining into the earth, so that's why the dress is designed to feel like it's planted or coming out of the earth" [12].
There are multiple capes that Elphaba wears with this dress–the one that flies behind her in "No Good Deed" and of course the cape connected to the cherry picker in "Defying Gravity."
At first glance, this dress looks like a simple black gown. But, much like Elphaba, it has complexities that are not immediately apparent.
"The skirt itself, for instance, takes about 40 yards of fabric where we piece it together. We take yards of fabric, rip it up, and piece it back together again, to make it feel like an organic material, which incorporates many, many different colors. […]
There's no straight lines, it's constantly curving and changing and coming back to wanting it to look like the earth. The bodice layer—once again, we take different fabrics and take them apart and re-put them back together again in a way that makes them feel organic or like the inside of a broken piece of coal."
Last, but certainly not least, we arrive at a costume which holds a special place in my heart:
12. Lady Larken's gown from Once Upon a Mattress.
Larken was my first "big" role in a musical.
I really love how dreamy fantasy/medieval-style gowns are. I know that most costumes for this show (and many others) are nowhere near period accurate. But for a show like Once Upon a Mattress, the audience probably isn't looking for accuracy. It's a comedy, after all!
They're coming for an escape into a fairytale land. So why not dress your ladies in puffy sleeves, floor length gowns, and long curly hair?
When I performed Lady Larken in Mattress, I got to wear two different gowns (the one I posted at the beginning of this post) & this one:
Both had an empire waist and puffy sleeves tied off with ribbons. Plus I had two flower crowns! Getting to wear such sweet gowns immediately helped me step into Lady Larken's character. I love wearing dresses onstage. All my favorite roles have had me in flowy gowns.
Seriously though, acting in dresses is my jam. I think it's because I'm so tall and skinny that a billowy skirt really gives me something else to work with!
So that's my top 12 musical theatre dresses I would love to wear. I hope you enjoyed this post!
Let me know in the comments what your dream dresses/roles are😊
Grace
Some Sources:
[1] How Anastasia's Costume Designer Honored What Fans Loved on Screen in a Fresh Way
[2] Inside the Tony-Award Winning Costume Design of Phantom
[3] A Look Back at the Costumes From 'My Fair Lady'
[3.5] My Fair Lady: Analysis of the 'Ascot' scene.
[4] Nostalgic 'Drowsy Chaperone' Opens on Broadway
[5] The Light in the Piazza
[6] Stageagent Listing
[7] HOW COSTUME DESIGNER AMY CLARK TRANSLATED THE 'HEATHERS' LOOK FOR BROADWAY
[8] Fish Out of Water in the Deep Blue Sea
[9] A deep dive into the costumes from Frozen on Broadway
[10] Jane Eyre Broadway Review by Thomas Burke
[11] Her Costumes Fit the Actors and the Scene
[12] Five questions with Susan Hilferty, costume designer for "WICKED"
[13] Theatre / Once Upon a Mattress