The best way I've found to learn the chronological order of history is by looking at the art set in that time period. For example, learning about 1950 by watching musicals written during that year as well as shows set in that year written in the future. I've already created a glorious wall timeline of my favorite literature, so I figured I would assemble a timeline of musicals that are traditionally set in a specific time.
When selecting these musicals, I tried to choose ones that are both well-known and that illustrate society & its fascinations at the time. Clearly, there aren't as many musicals to choose from pre-19th-century. To be honest, there are also some musicals that would fill some of my timeline gaps that I did not include. These musicals were so absorbed in modern/imaginary issues it's nauseating and completely unhelpful in a timeline context. (I can do this because, well, it's my blog!)
Please comment any musicals you know that are set in the time periods I have missed! I'll be updating this timeline regularly!
Note: Most of these musicals are not historically accurate. Some of them tell entirely fictional stories (King Arthur and Orpheus for example), but are useful for understanding the zeitgeist of the time. It's also pretty interesting to see how modern playwrights skillfully connect modern issues to the past.
Disclaimer: I do not own any of the photos in this post. I have attempted to give photo credit / where I found the picture whenever the information was readily available. If any of these pictures are yours and you would like them taken down, just contact me!
Children of Eden
Nobody knows for sure where the Garden of Eden was, but most theologians agree it was located somewhere in between Europe and Asia.
Joseph and the Amazing Technicolor Dreamcoat
Joseph lived in Canaan (near modern day Israel) with his 11 brothers and father, Jacob. And then, you know, he made it to Egypt eventually.
Hadestown
Though The Original Broadway Cast Production of this musical is set in a steampunky, post-apocolyptic setting, all of the characters beautifully illustrate Ancient Greek mythology. So I placed it here.
Jesus Christ Superstar
This musical is clearly not an accurate depiction of the life of Jesus Christ. The show is about Judas's perception of Jesus as simply a man (instead of 100% God and 100% man). Even so, it's set in a 60s-influenced Judea & Galilee in the time period of the Incarnate God.
A Funny Thing Happened on the Way to the Forum
This comedy is set in the city of Rome during the reign of Nero (a bad, mean guy).
Camelot
Once upon a time, there was some castle in Britain with a round table in it. And Julie Andrews.
The Lion King
This musical could be at any time, but I decided to place it here. I like to think lions and toucans sang and danced together in the 8th century. The costume, mask, and puppet designs are inspired by Japense and Indonesia as well as Africa (the fictional location of pride rock).

Aladdin
The fictional city of Agrabah represents the original story (The Thief of Baghdad's) setting in modern day Iraq.
Spamalot
Again with the Middle Ages Camelot thing. Spamalot also stars King Arthur, who is still simply a folk character of British history (or was he real?)

Into the Woods
Set in Europe in the generic Middle Ages often with some modern twists (I'm talking 18th century ballgowns as well as 20th century hairstyles)!

The Hunchback of Notre Dame
Paris, France during the reign of Louis XI. Stunning Catholic cathedrals juxtaposing corrupted men and women? Sounds like a great musical.

Man of La Mancha
This musical is set in a prison in Seville, Spain as well as imaginary places in Don Quixote's mind.

Something Rotten!
A farcical history of English play-writing & William Shakespeare. *Insert Shakespearean phrase here*
Candide
Westphalia, Lisbon, & Paris, oh my. This musical is set in a lot of places.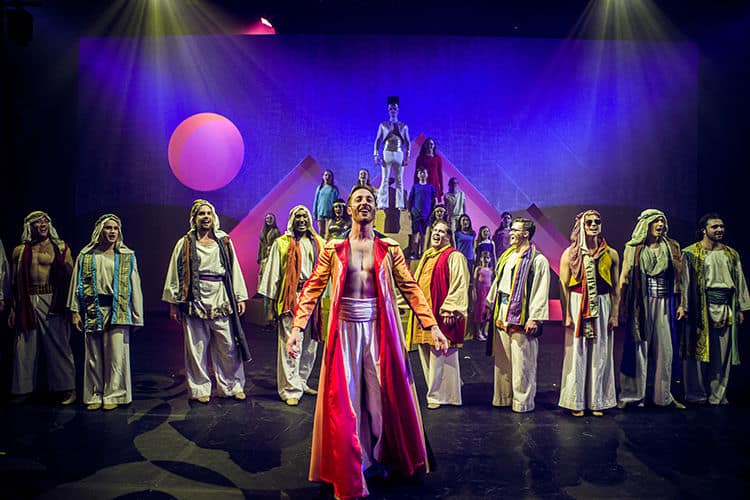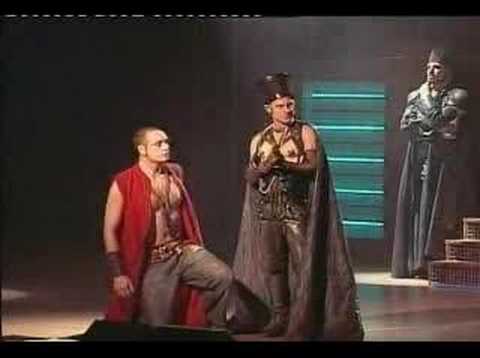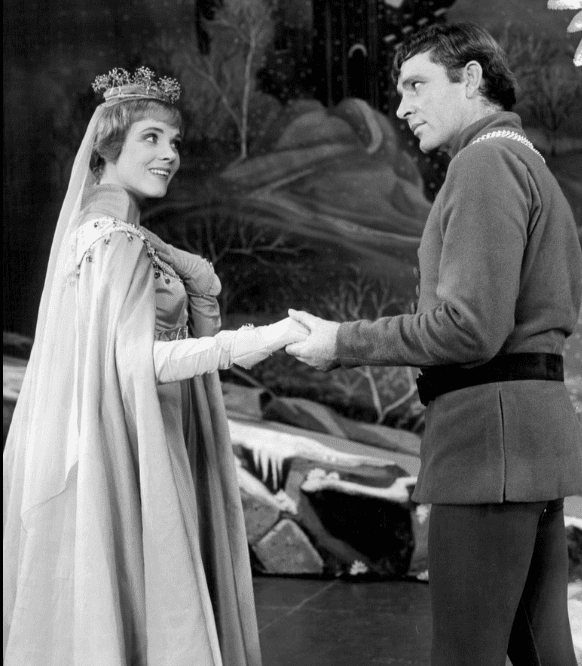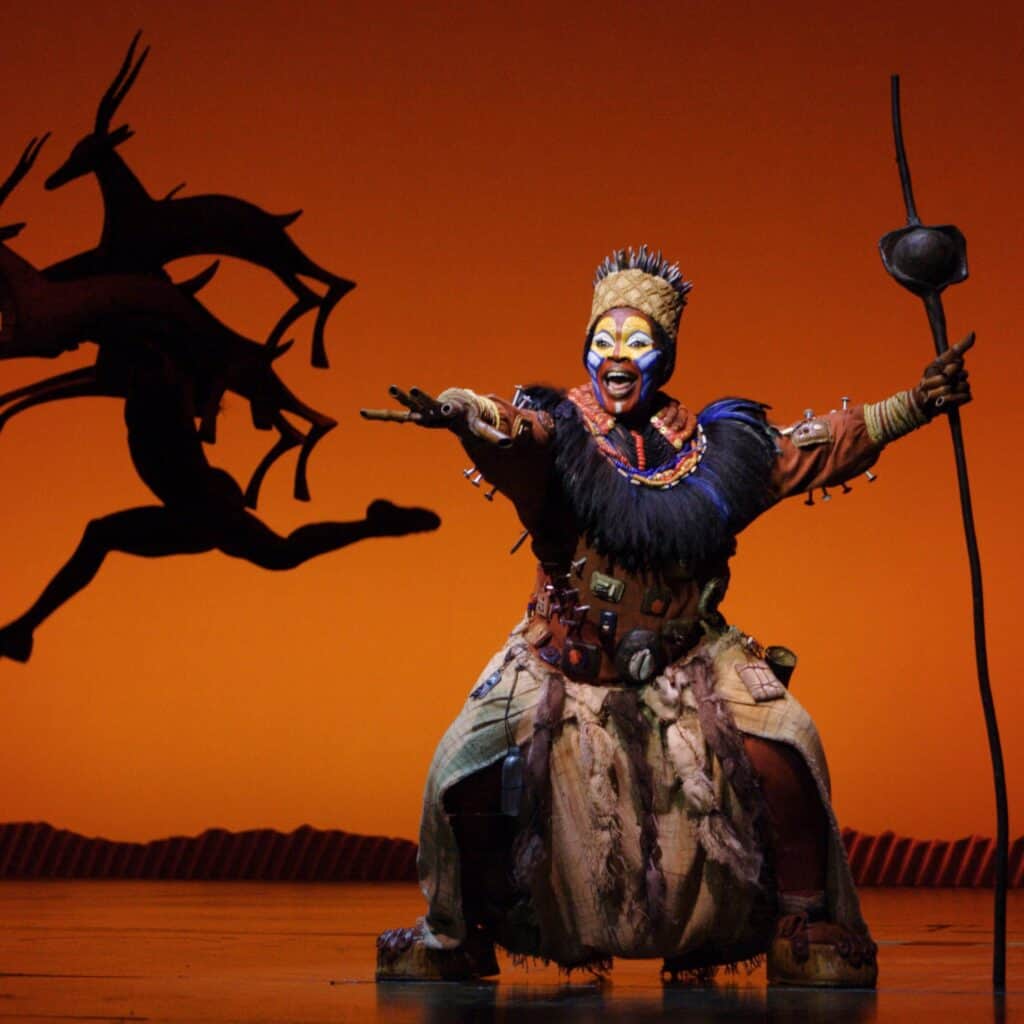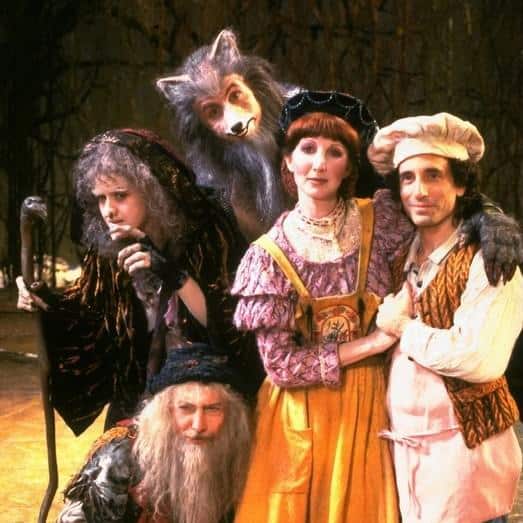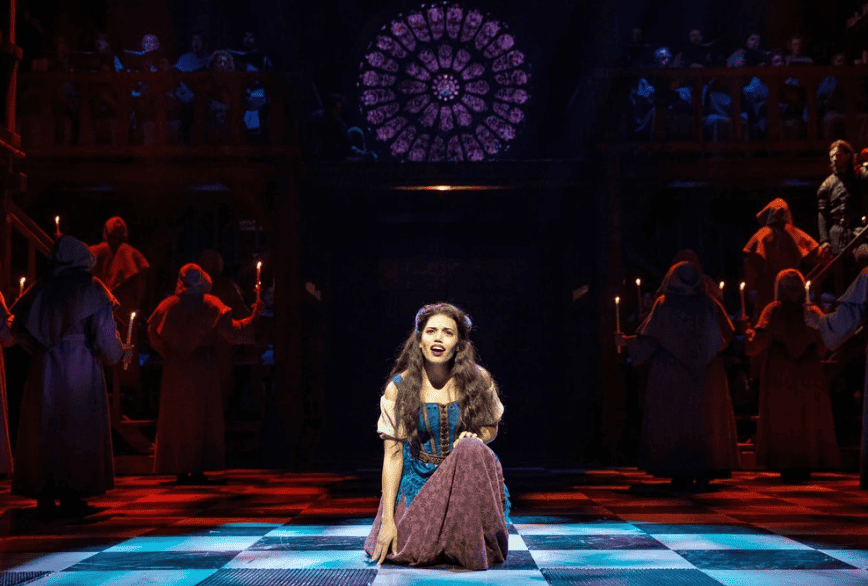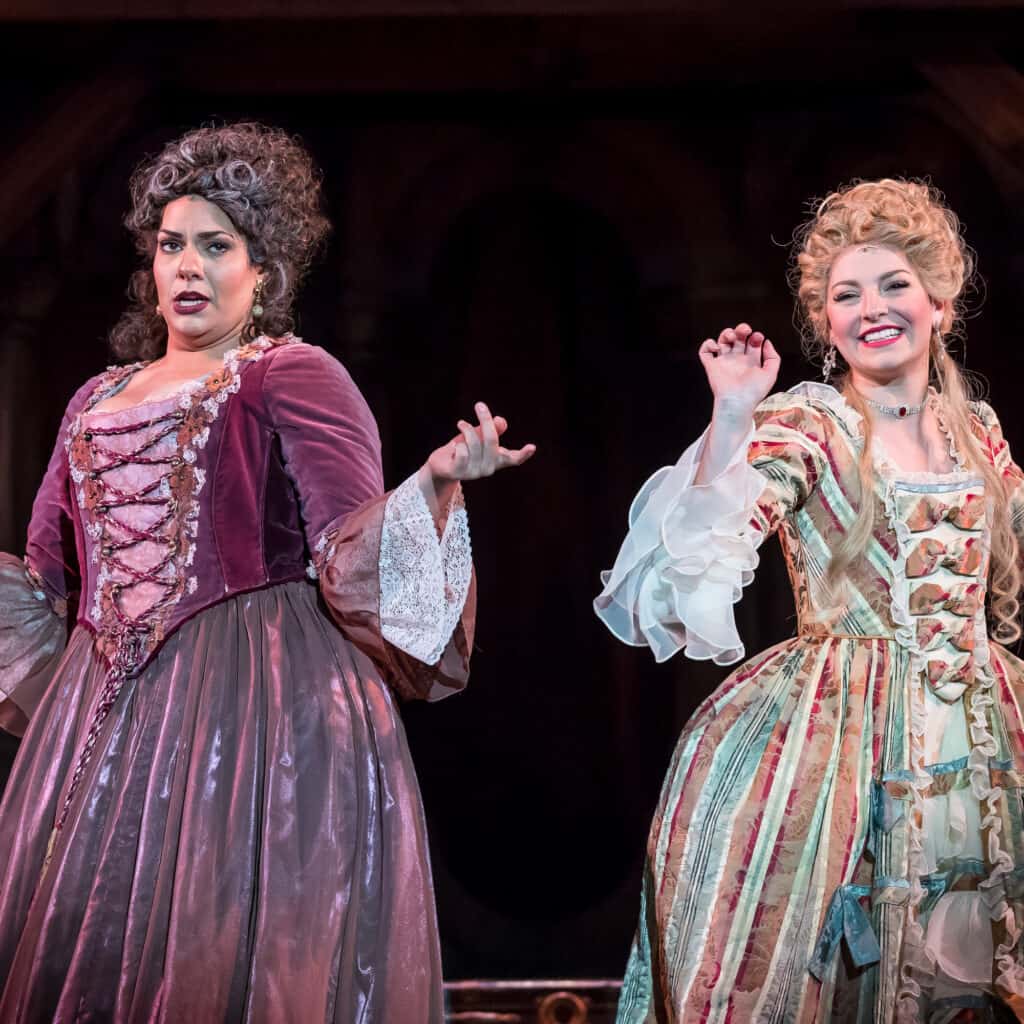 Hamilton
I love Hamilton! In case you're out of the loop, this show takes place in colonial America (mostly in New York) with a couple of scenes featuring King George III in Britain (probably Windsor Castle or Kew Palace).

Sweeney Todd the Demon Barber of Fleet Street
It's pretty hard to miss where this musical is set (as well as how Sweeney feels about it!) because of these lines in the opening song:
"There's a hole in the world like a great black pit
and the vermin of the world inhabit it
and its morals aren't worth what a pig could spit
and it goes by the name of London."
Natasha, Pierre & The Great Comet of 1812
Based on Tolstoy's 1869 novel War and Peace, this musical is set in Moscow, Russia just before Napolean's invasion and burning of the city.
Oliver Twist!
Though Mudfog is not a real city in England, it's pretty similar to Sweeney's London in that it's described as filthy, stinky, and crime-ridden.
Les Misérables
Let me start by saying: no, this show is not about the French Revolution in 1789 with the guillotines and Marie-Antoinette. The revolution the young leads try to ignite is actually based on a "small Parisian insurrection … in June 1832."
Big River
Based on the Mark Twain classic, the Adventures of Huckleberry Finn, this musical is set near St. Petersburg, Missouri.
The King and I
This beautiful musical takes place in Bangkok, Siam (modern-day Thailand). It tells the story of two different cultures when Anna, a governess from England, comes to work for the King of Siam.
The Civil War
Portraying the American Civil War from Union, Confederate, and slave viewpoints, the action in this show bounces around the north and south from battlefield to hometowns.
The Mystery Of Edwin Drood
Same as many musicals set in England, this musical is set in London as well as the fictional city of Cloisterham (based on the real city of Rochester).
Jane Eyre
Just like the adored and fantastic Charlotte Brontë novel, this musical is set in five semi-fictional locations in northern England. Some locations like Lowood School were based on actual places Charlotte and her sisters went. Thornfield & Moor House are more general English countryside manor and home, respectively.
Carousel
Billy and Julie both live and work in the little town of Boothbay Harbor, Maine.
Phantom Of The Opera
As the name implies, this musical is set in The Paris Opera House. Details of the show's opera house are very similar to the real-life Palais Garnier (including the underground lake!)
Sunday in the Park with George
At first, this musical is set on the Island of La Grande Jette in Paris where Georges Seurat painted his famous work: A Sundy Afternoon on the Island of La Grande Jette. Eventually, the cast is no longer on the island, but part of the canvas itself. The show jumps forward a century and ends (no spoilers!)

Jekyll and Hyde
The novel of the same name by Robert Louis Stevenson is set in a London that is heavily influenced by his hometown of Edinburgh. The theme of the "facade" of being a "gentleman" found in the musical and novel is illustrated not only by Doctor Jekyll / Mr. Hyde but also by the city during the day versus the night.
Show Boat
This show is set on the Cotton Blossom, a fictional Mississippi River showboat. Fun fact: it is often pointed to as the first book musical.
Annie Get Your Gun
This musical is set in New York City as well as the American Mid-West as the Buffalo Bill's Wild West show travels around.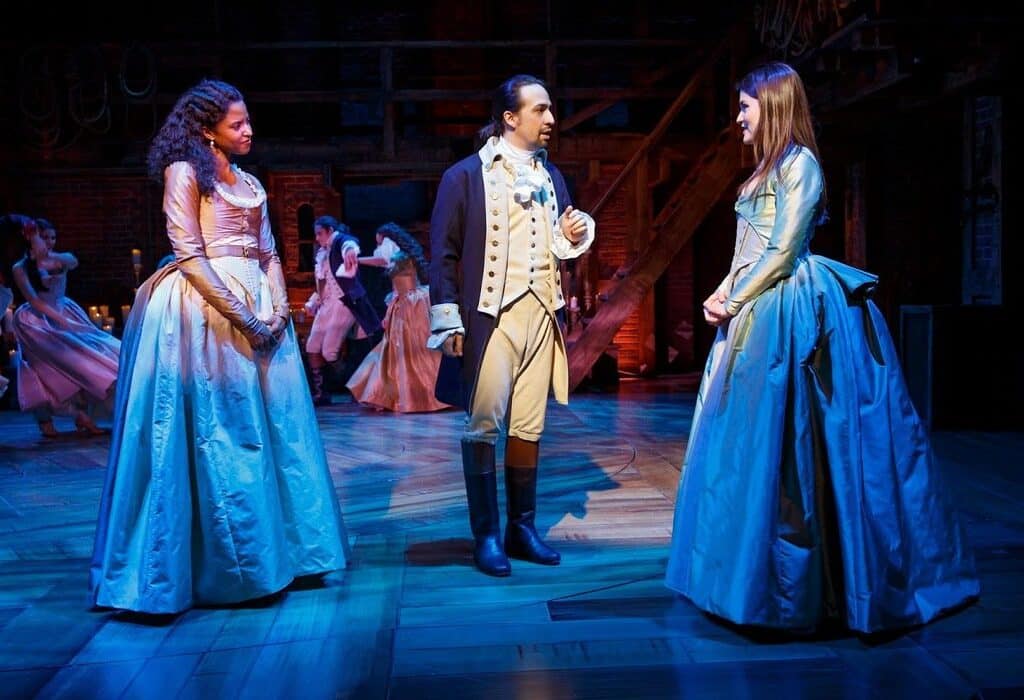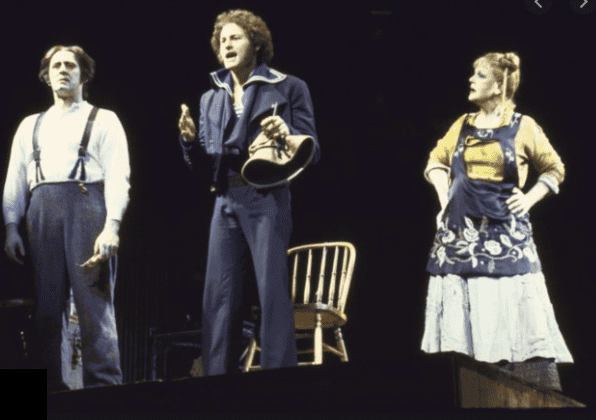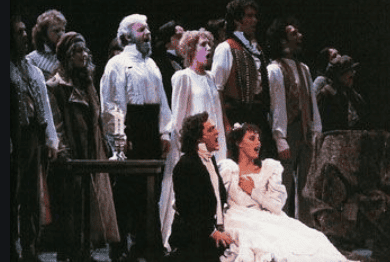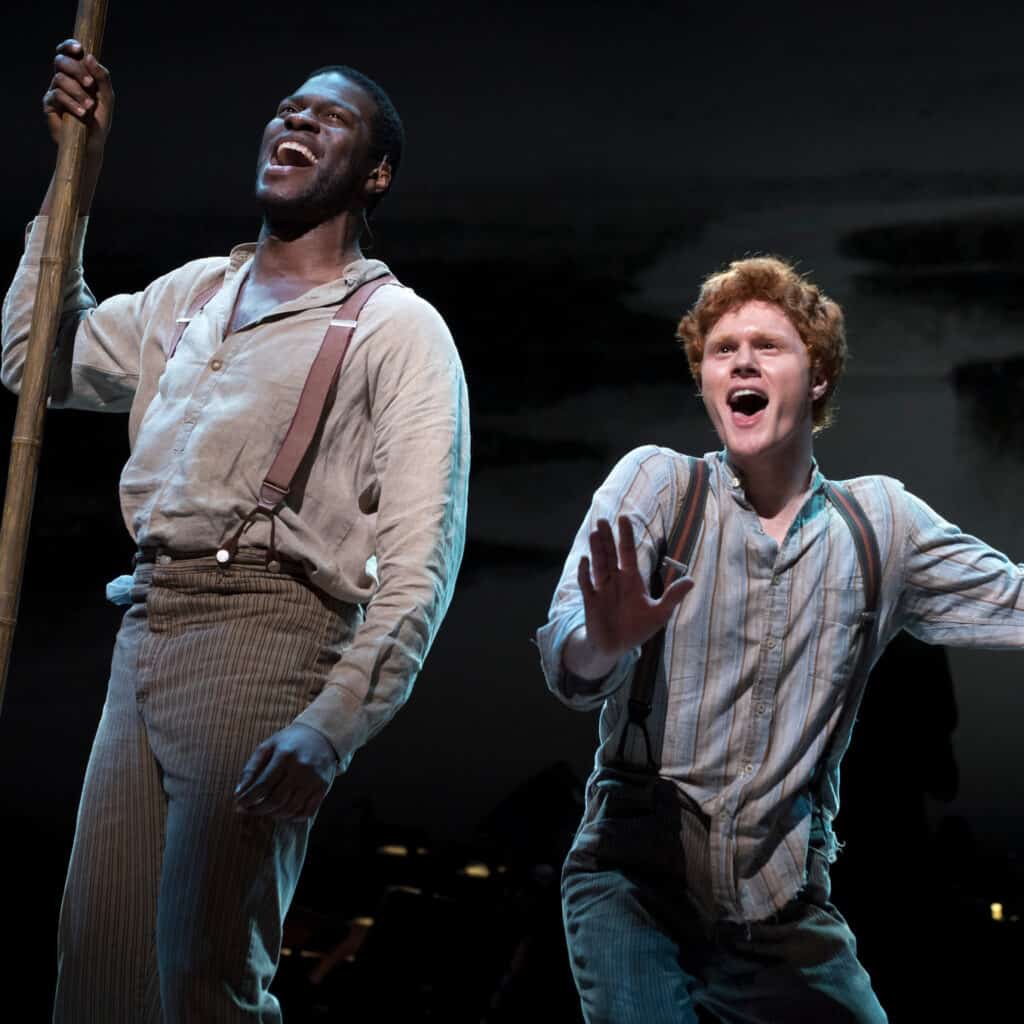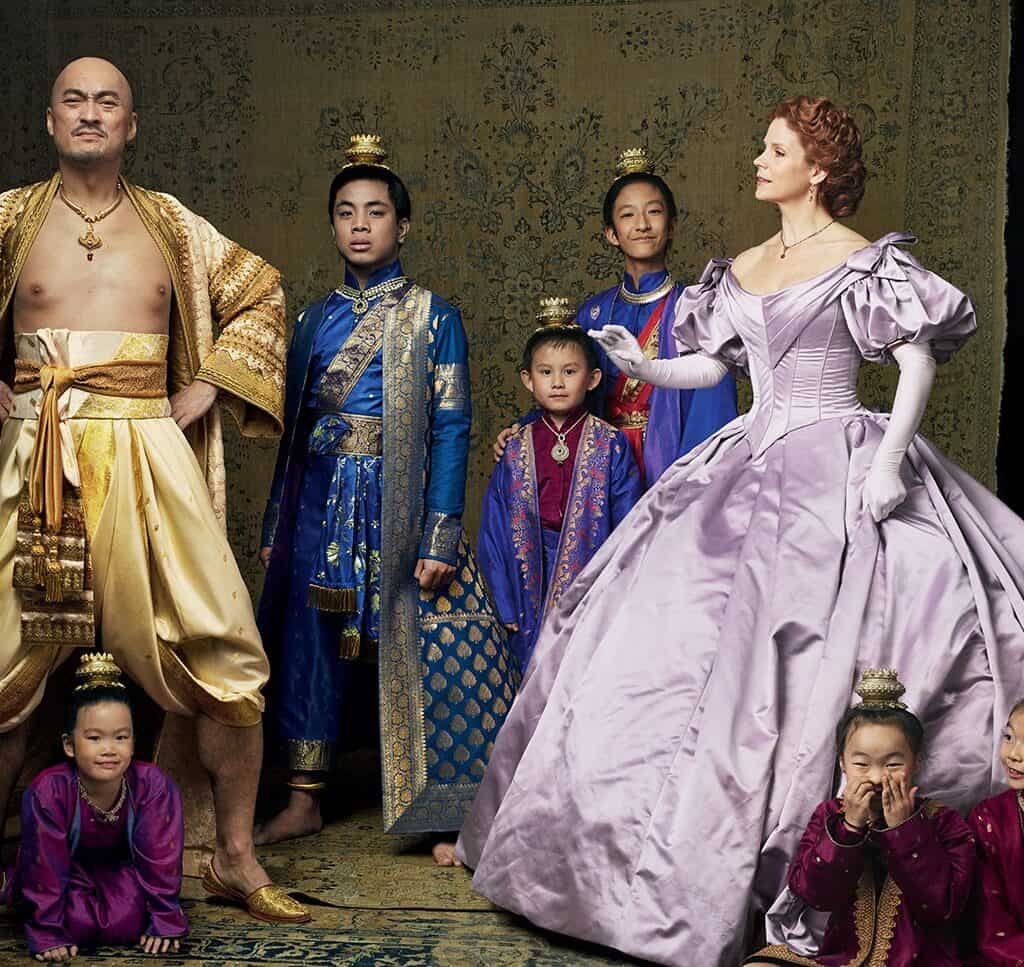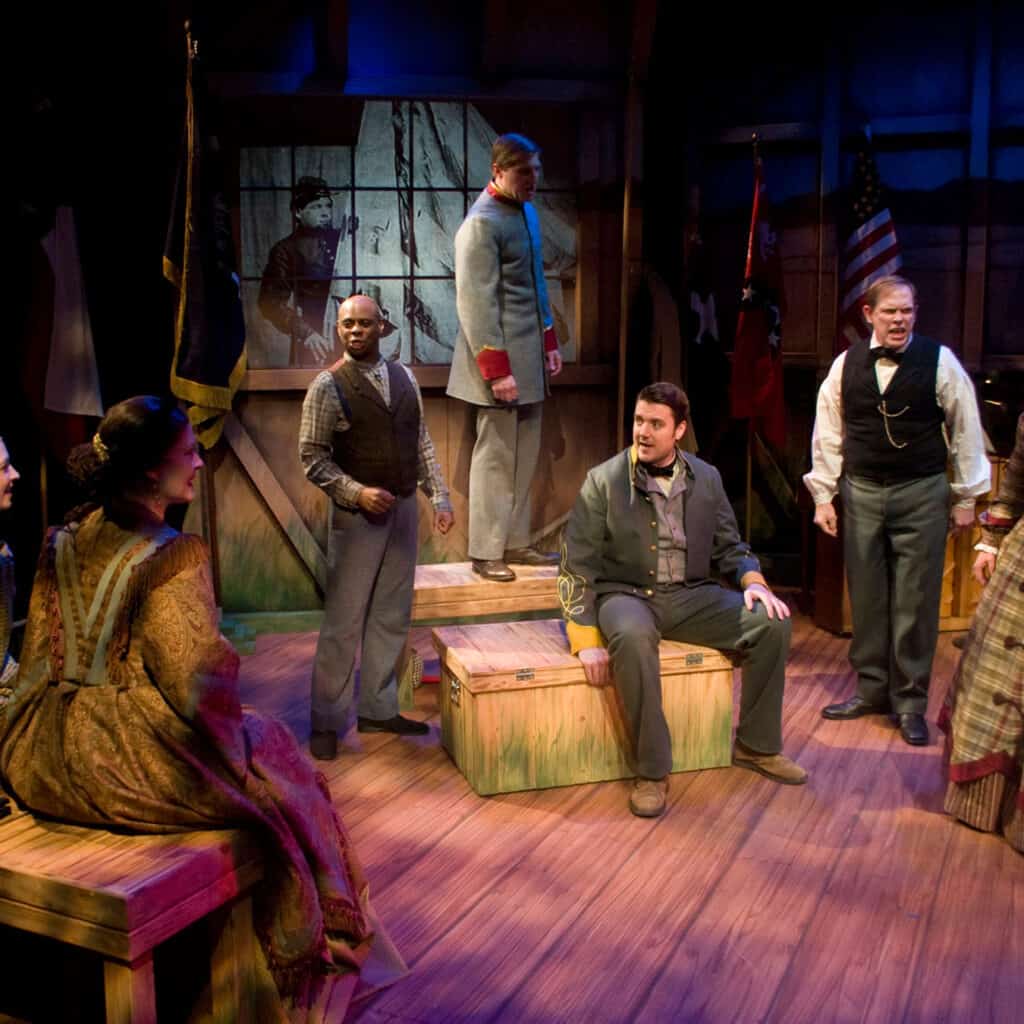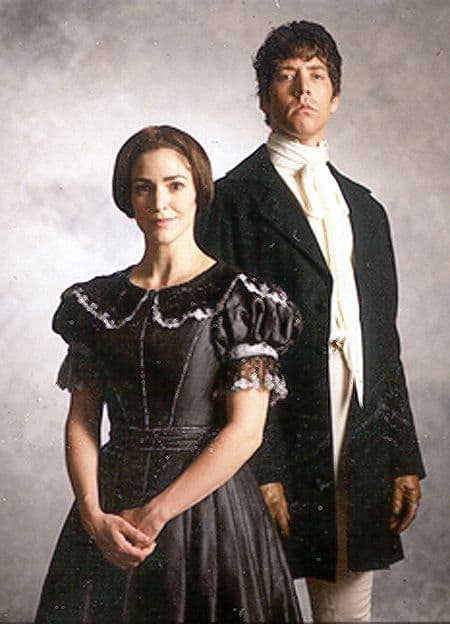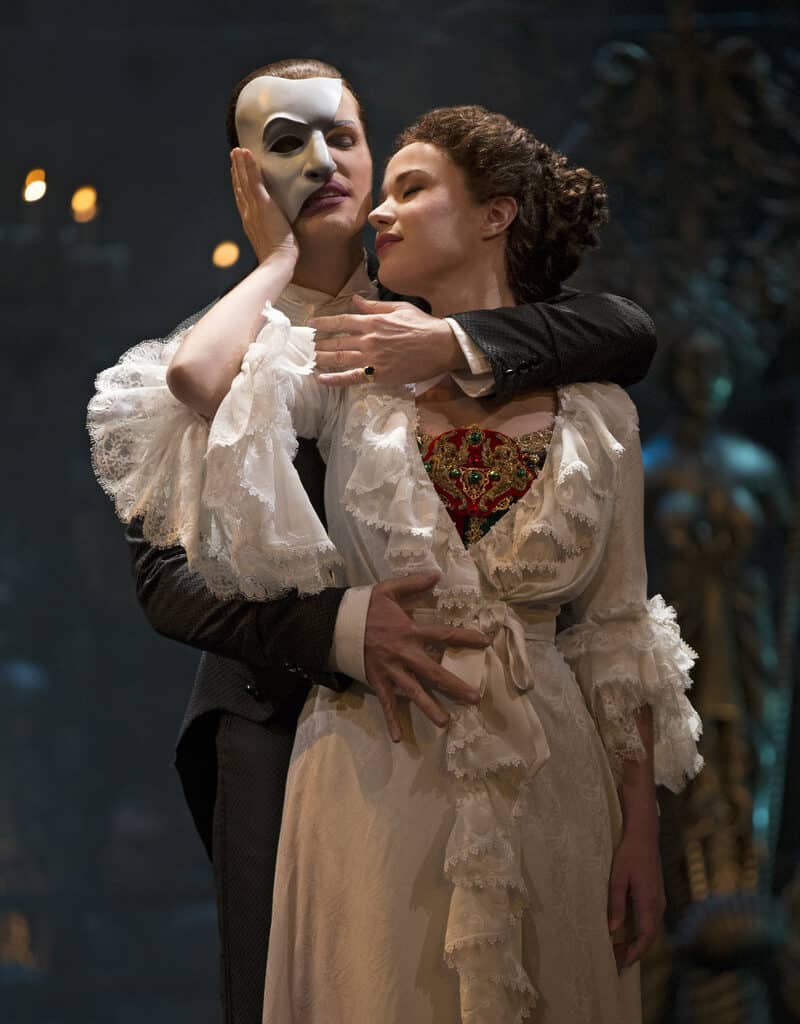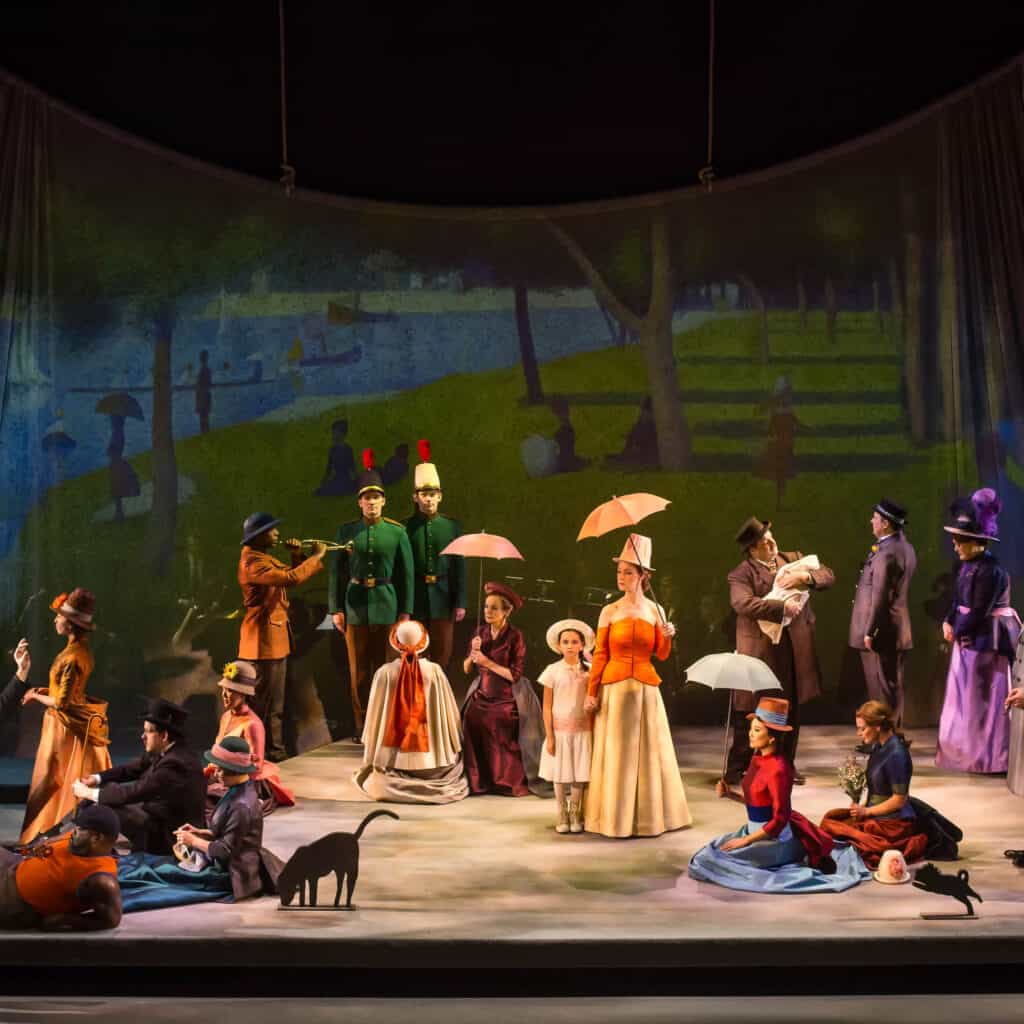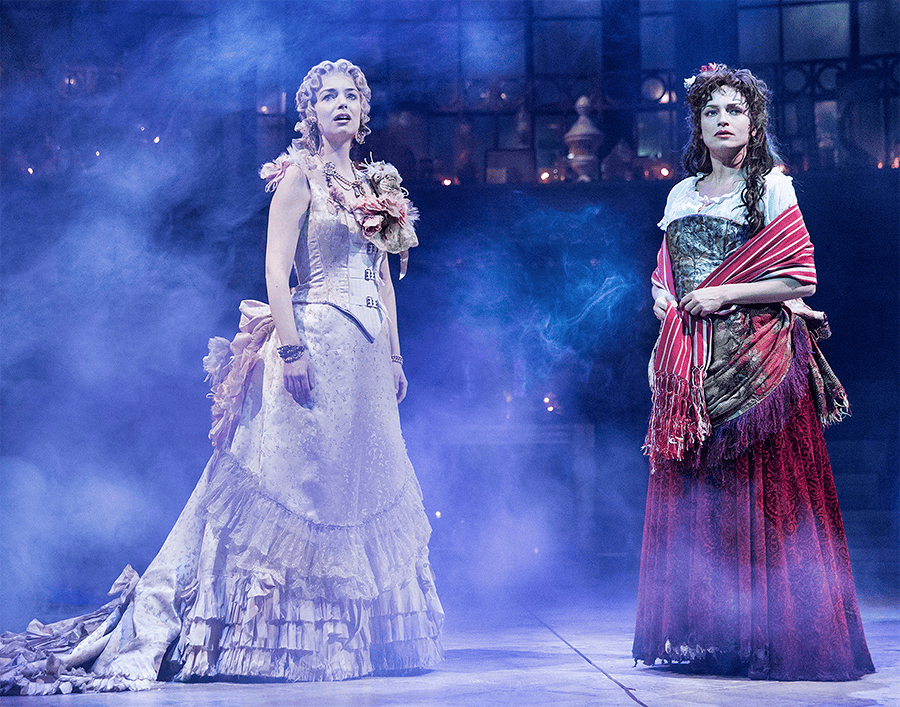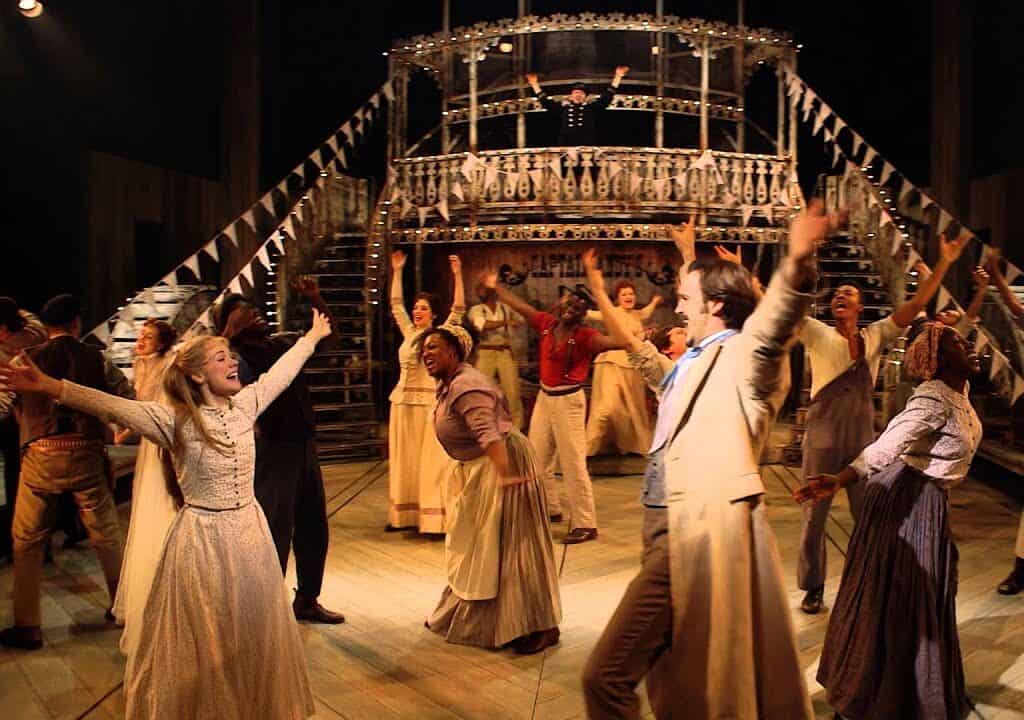 [mailmunch-form id="894136″]
Spring Awakening
Set in Germany, this show is very focused on how teenagers felt oppressed in their environment. The girls' baby doll dresses are reasonably historically accurate as well indicative of the naiveté of the characters.
Newsies!
You can't watch this show without understanding exactly where its set: New York City! Various boroughs are mentioned as well as Jack's dream to go to Santa Feeeeeeeee!
A Little Night Music
This lovely Sondheim show features multiple love stories all set in Sweden. Timeless problems in a new century.
Fiddler on the Roof
The Pale of Settlement where Jewish men and women were permitted to live in Imperial Russia was an oppressive and dangerous place to live. Fiddler artfully captures this period of hate directed at the long-suffering Jewish people by sharing the fictional story of the people in the town of Anatevka.
Oklahoma!
You probably guessed it, this show is set in Claremore, Louisiana. Just kidding. It's in Oklahoma.
Ragtime
Set in New York City, this show tells the story of three social groups: African Americans in Harlem, upper-class suburbanites, and Jewish immigrants. (Tateh and his daughter are from Latvia, part of which was included in the Pale of Settlement. Tateh . . . Tevye . . . just saying.)
My Fair Lady, The Music Man
These musicals are set in London and River City, Iowa respectively. Very different places and social situations are illustrated by these musicals, and yet, their sensibilities are so similar.
Parade
Again, this musical is about oppressing good, Jewish characters this time in the southern town of Marietta, Georgia.
Gypsy
Dance Moms have nothing on Mama Rose. This show is set all across America, showcasing the death of vaudeville circuits and the struggles of an overbearing mother trying to live vicariously through her daughters.
Thoroughly Modern Millie
The titular character is from Kansas, but she sets her sights on marrying for money instead of love. And what better place for $$ than New York City?
Bright Star
This show is set in the Blue Ridge Mountains of North Carolina over multiple decades.
Singin' in the Rain
Depicting three performers in Hollywood, California, this show is best known for literally "making it rain."
Chicago
Illinois. Features some super-talented leads: Roxie, Velma, & Billy Flynn. (I would mention Roxie's husband, Amos, but that would be noticing him. That would never do.)
The Drowsy Chaperone
The record of a 1928 musical being performed at the Morosco Theatre is played by the Man in Chair circa 2008. That's right. Musical within a play.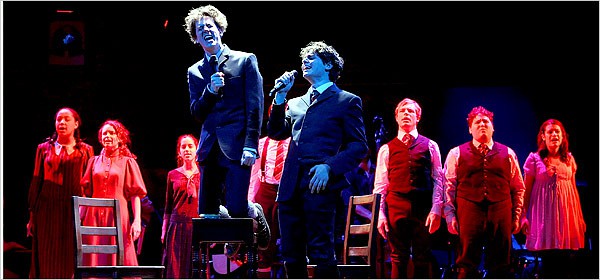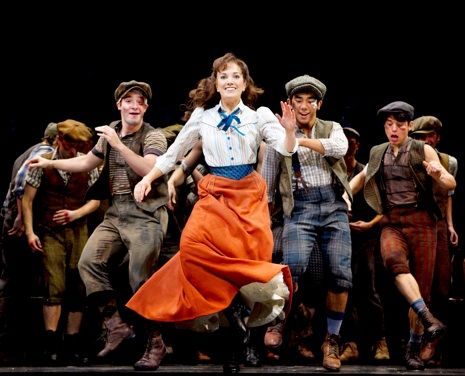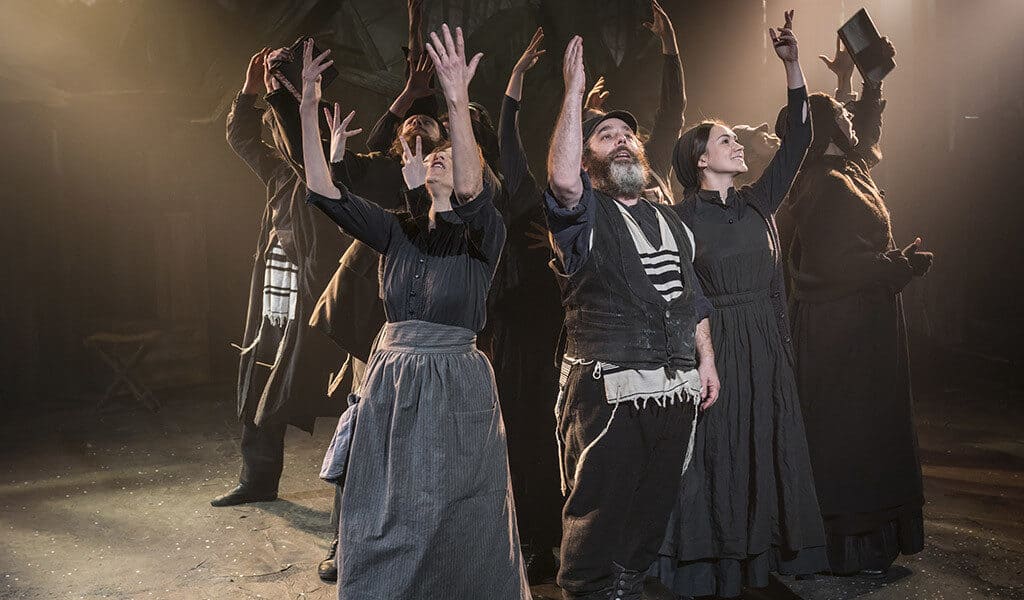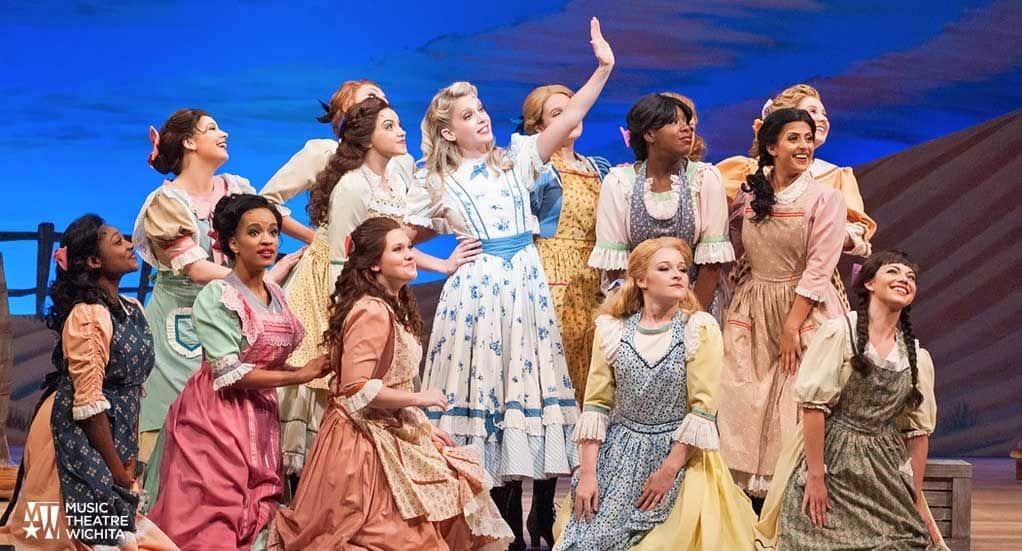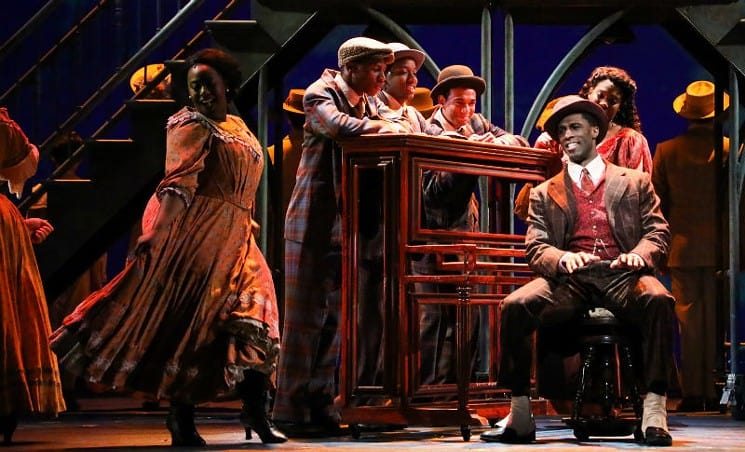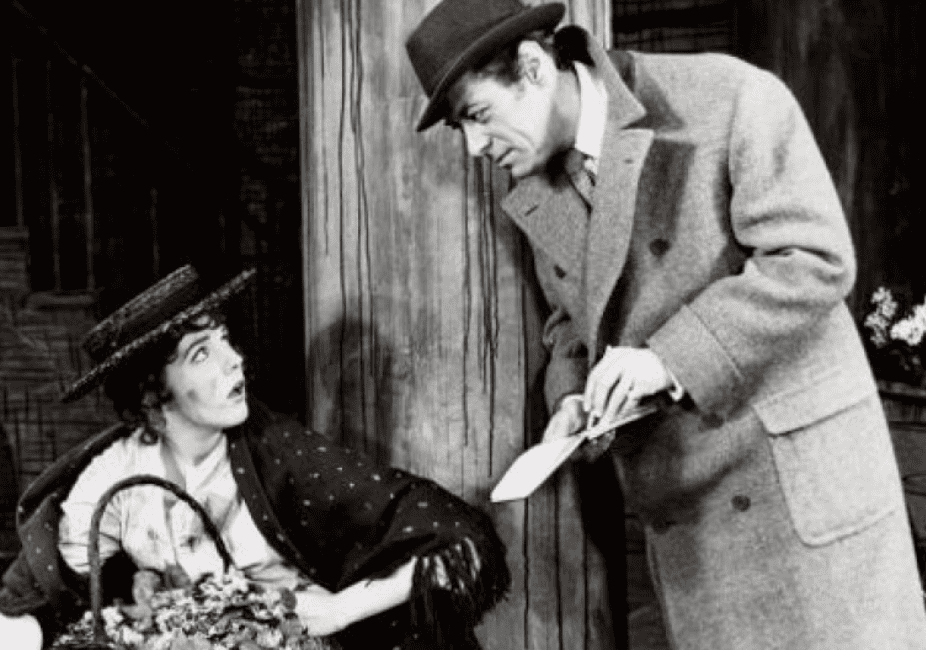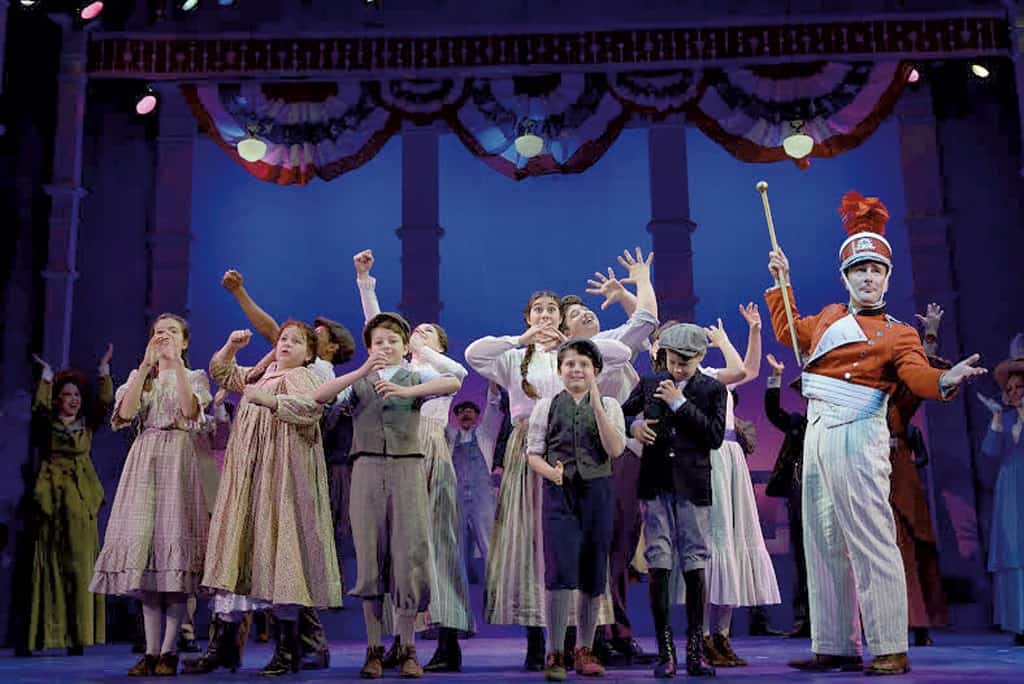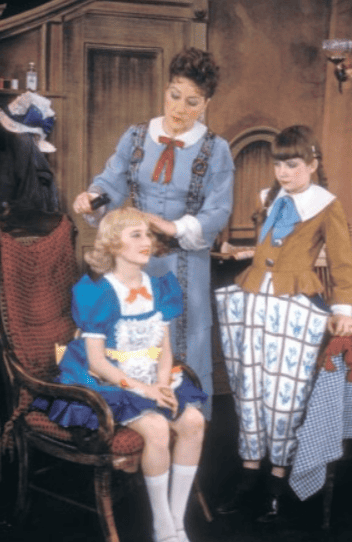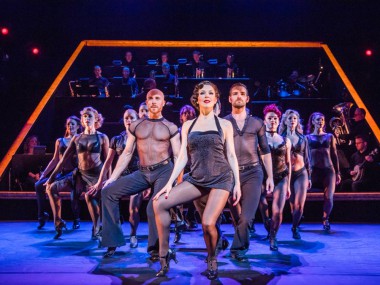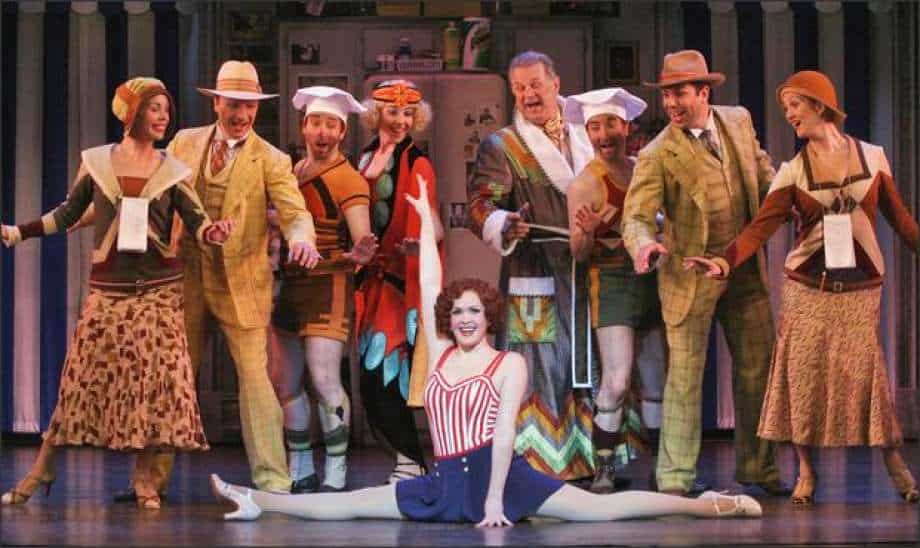 Porgy and Bess
This musical is set in Catfish Row, a dockside area of Charleston, South Carolina. This area is where the city's poorest black residents live and where this story of isolation, compassion, and abuse it told.
Cabaret
I love the setting of this show. It's pre-war Berlin just as the Nazis are rising to power. The nightlife at the Kit Kat Klub keeps the audience and characters distracted from the evil happening in society and impending genocide of the very "undesirable" performers at the club.
Annie, 42nd Street
Both of these shows are set in New York City during the Great Depression. They're also both rags to riches stories–the kind of American dream that impoverished Americans craved at this time period.
Bonnie & Clyde
Based on the real-life outlaws, this musical starts with the pair meeting and falling in love / lust in Texas. Their crimes ranged from Missouri, to Oklahoma, to New Mexico, but always back to Texas to meet their parents.
Evita
This show mostly takes place in Buenos Aires, Argentina. Eva also takes a tour of Europe–being snubbed by the English when they don't invite her to Buckingham Palace.
The Sound of Music
Following her position as a postulant in Nonnberg Abbey, a real Benedictine Abbey, Maria is sent by the Mother Abbess outside to the town of Salzburg, Austria. In the 7 years between Cabaret and The Sound of Music, the Nazi Party grew to enormous power.
Allegiance
After the bombing of Pearl Harbor, the Japanese Internment in America began. This musical tells the story of George Takei and his family who were forced to move from their farm in California to The Heart Mountain Relocation Center in Wyoming.
South Pacific
Set on an island in the south pacific during WWII, this show explores themes of racism and love.
Kiss Me, Kate
This show is set in June 1948 at a theatre in Baltimore, Maryland. It is a musical-within-a-musical as a company of actors and their backstage antics mirror their brand new production – a musical adaptation of Shakespeare's The Taming of the Shrew. 
Sunset Boulevard
 This musical is all about Norma Desmond, a faded star of the silent screen era, living in the past in her decaying mansion on the fabled titular Los Angeles street.
Guys and Dolls
Missionaries and gamblers in Manhattan? Dates to Havana, Cuba? Yep. This musical's settings are as juxtaposed and colorful as its beloved characters.
Jersey Boys
Based on the real, highly popular musical quartet, The Four Seasons, this show takes place in Belleville, New Jersey.
The Light in the Piazza
Margaret and Clara (her young adult, disabled daughter) from the South of America spend a summer in Italy. Adam Guettel's music beautifully tells Clara and the Italian Fabrizio's story of love and hope.
Million Dollar Quartet
This jukebox musical ACTUALLY HAPPENED. On December 4, 1956, Johnny Cash, Jerry Lee Lewis, Carl Perkins, and Elvis Presley met at Sun Records in Memphis, Tennessee for what would be one of the greatest jam sessions ever.
Bye Bye Birdie, West Side Story
These musicals are set in the fictional town of Sweet Apple, Ohio, and in the upper West Side of New York City respectively. Both feature teenage romance as the central plot devices but differ greatly in their degrees of lightheartedness and overall theme.
Grease
At Rydell High School, there is lots of drama and teen love. The fictional high was based on a school in Chicago, Illinois where its working-class students faced many of the same complexities of peer pressure and politics.
This jukebox musical following the life of Carole King takes place in New York City as well as scenes on tour and in Los Angeles.
Hairspray
Set in Baltimore, Maryland, this show features a mom played by a man, 60s style dance music, and masterfully condemns racism.
Little Shop of Horrors
"Down on Skid Row" in New York is where this doo-woppin' musical takes place. The show uses the ensemble to create that city street vibe (which contrasts so beautifully to Audrey's dream of somewhere green).
Dogfight the Musical
The story of Eddie Birdlace and Rose begins in San Francisco the night before he ships out to Vietnam with the Marine Corps and ends with his shame-filled return to the ungrateful city.
Hair
The hippies in this raunchy show live the bohemian life in New York City.
A Chorus Line
This musical is set in an especially rigorous chorus dancers' audition in a New York Broadway musical theater.
Merrily We Roll Along
The story of songwriter / producer Frank Shepard begins when he is at the height of his career in a swanky LA apartment. The show ends with him penniless in an old 110th street New York apartment.
The Best Little Whorehouse In Texas
This story was inspired by the real-life Chicken Ranch in La Grange, Texas. Unfortunately for my alma mater, A&M, this story features some less than ideal promiscuity.
Miss saigon
A love story set at a turning point in the Vietnam War, this show illustrates struggles between Vietnamese and Americans during the war.
Sister Act
Featuring some crooked fictional people and clergy, this musical occurs mostly at a parish located in a run-down San Francisco neighborhood.
Carrie the Musical
Based on the movie, Carrie lives in the fictional town of Chamberlain, Maine.
Footloose the Musical
Ren and his mother move from Chicago to the small, fictional town of Bomot, Oklahoma. Due to a fatal car accident years prior, the city council has banned dancing and rock music. This is, naturally, a problem for rebellious teens with angsty moves such as Ren.
dreamgirls
Based on the real singing group The Supremes, this musical is set in Detroit, Michigan.
Matilda the Musical
This musical takes place in an English village, and more specifically, at Matilda's home, school, and briefly, at Miss Honey's cottage in the country.

Rock of Ages
Another jukebox musical, this show is set in Los Angeles, California. (Fun fact: the full name of Los Angeles is El Pueblo de Nuestra Señora la Reina de los Ángeles de Porciúncula, or "The Town of Our Lady the Queen of the Angels of Porciúncula.")
Heathers the Musical
Set at Westerburg High School somewhere in Ohio, this show is very similar to Grease . . . just with more murder.
The Band's Visit
The location of this show is due to a bus ticket mix up: Haled asks the clerk for a ticket to the city of Petah Tikvah, but due to his Egyptian accent, she misunderstands him and sells him tickets to the isolated desert town of "Bet Hatikva". *Cue the song "Welcome to Nowhere"*
Mamma Mia!
The fictional "Villa Donna" located on fictional "Kalokairi" is supposed to be in Greece (real).
Modern Day (in parentheses, year movie or musical released). These shows (and some of the above) could really be played in any time period, so I put them in this separate timeline grouping.
Legally Blonde the Musical
The glamourous Elle Woods was as a sorority girl at a fictional college CULA in California before being accepted to Harvard in Cambridge, Massachusetts.
The Last Five Years
This story told in reverse chronological order between Jamie and Cathy takes place in New York as well as Ohio.
Avenue Q
Apparently in the "outer-outer-borough" of NYC there are puppets discussing adult themes.
The 25th Annual Putnam County Spelling Bee
Putnam Valley Middle School is geographically ambiguous. Could be any American middle school.
Next to Normal
This musical is set in an unidentified suburban American
community. Much of the action takes place in the family home, various doctor's offices, Natalie's school, and the dark corners of Diana's tortured psyche. Settings shift
frequently and quickly throughout the play just like Diana's disorder causes her to shift moods.
Once the Musical
This beautiful musical takes place in Dublin, Ireland. The main characters "Guy" and "Girl" are Irish and Czech respectively and tell a gorgeous story of impossible love.
Dear Evan Hanson
Evan, his mother, and Connor's family all live in suburban New York.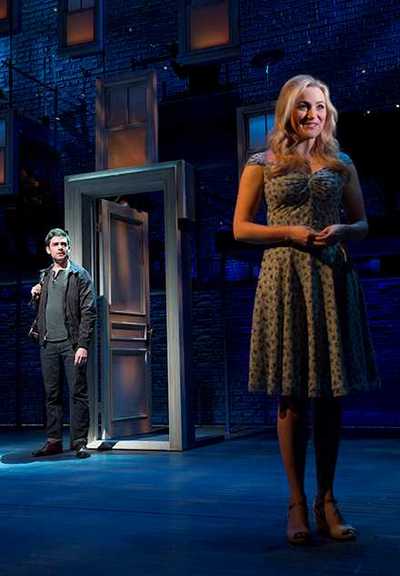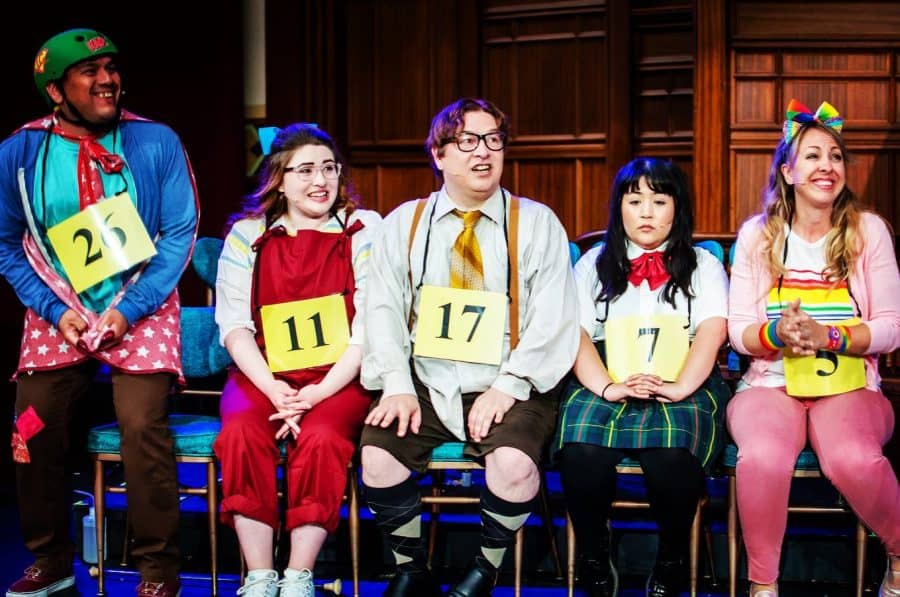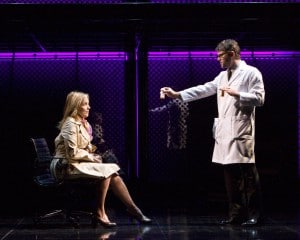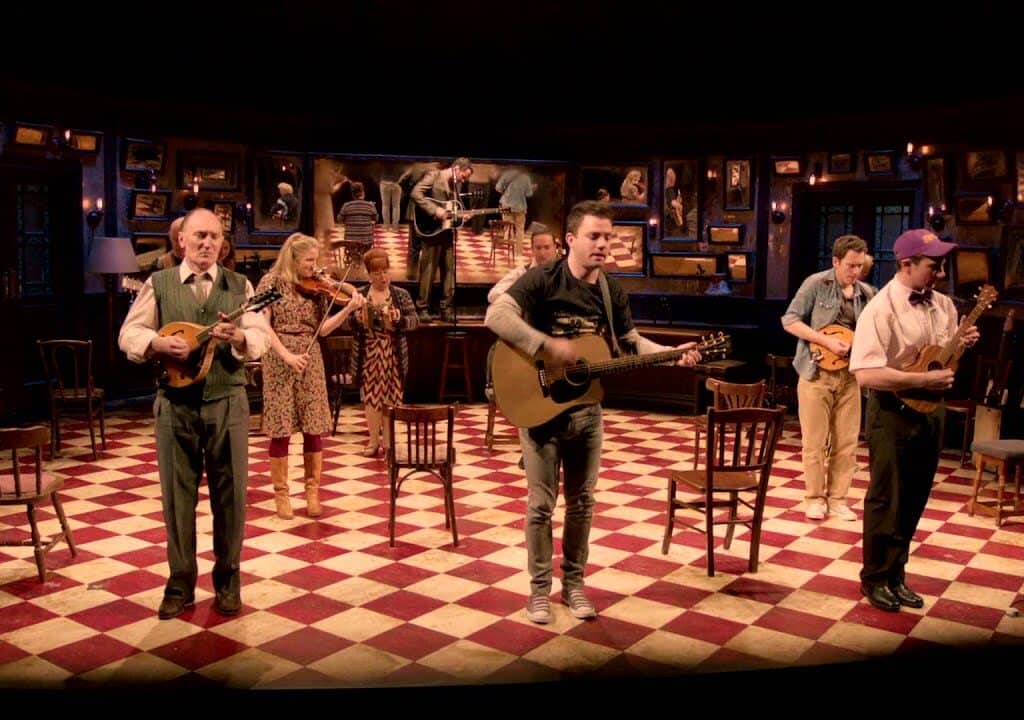 Bonuses!! Here are a couple of musicals that are set in too fantasy of a realm to classify their time period or setting in the musical timeline.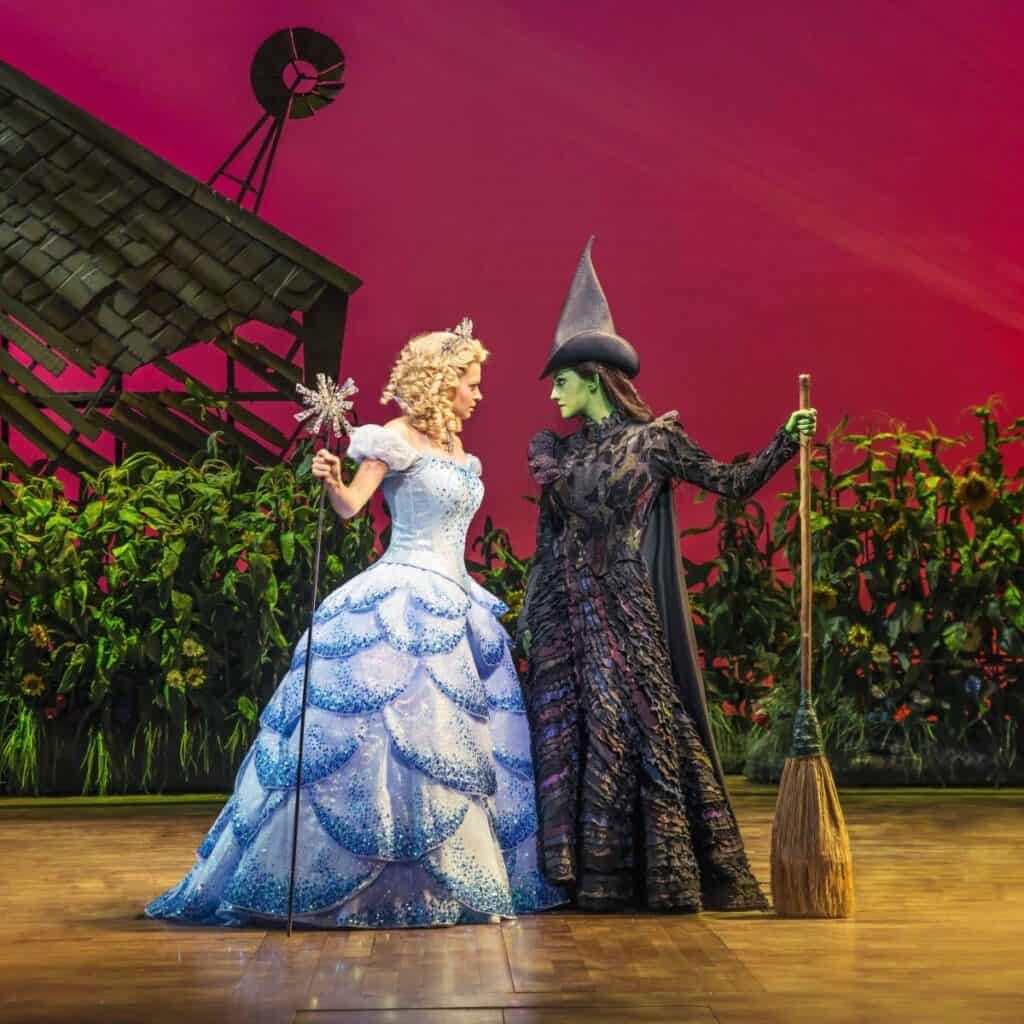 Seussical
Wicked
Shrek the Musical
Cats (ugh)
Alice in Wonderland (or Wonderland)
There you go! A timeline based on when musicals are set.