H ow does a musical theatre lover get to perform when at a university without a music or theatre degree? Do what I did — minor in something performance-related, enroll in a directed study, and arrange and perform your own cabaret!
It was my final semester of college. I needed to enroll in one more higher-level course at A&M to complete my English degree. Instead of taking a third 300-400 level English class that semester, I decided to see if I could do a directed study musical theatre style.
My husband, Caleb, was off in Virginia doing Marine Corps things, so I wanted a passion project. I needed a project that would take a lot of my time, count for higher-level college credit, and allow me to perform something I would enjoy.
So, if you're looking to perform your own cabaret check out my outline of what I did here or if you just want to know how I did it keep reading!
Months In Advance!
First step:
Figure out performance course options
Before I made any plans, I got in touch with my academic advisor. There's no point in planning a cabaret for credit if you can't get any.
As a performance studies minor at A&M, I was lucky to have an advisor who had a good amount of free time. (This was not the case as an engineering or business major 🙄).
Thankfully, my advisor said that my idea to create and perform a senior showcase/cabaret sounded great! She said it would probably fit under the directed studies course category at A&M (which is just a catch-all for getting to do your own project/research for college credit . . . liberal arts perk).
I just needed to find a faculty advisor to mentor and grade me.
Choose a theatrical faculty advisor
At first, I had no clue who to choose. I had not been a performance studies minor for long (I was only in college for 2.5 years and a performance studies minor for a total of 2 semesters).
I felt utterly lost until the vague memory of a theatre club meeting I had attended my freshman year drifted into my mind. The faculty advisor for that club, Professor Anne Quackenbush was really sweet. So, I asked other students about her and they all said she was a solid theatre director and a wonderful mentor.
And boy were they right!
Before the fall semester began, I emailed Professor Quackenbush asking her if we could meet to discuss a possible directed study. As the introverted-extrovert I am, I was pretty nervous to meet her (I had many professors at A&M who were a little too full of themselves).
Before heading to her office hours to talk about the directed study, I brainstormed topics for my showcase. At this point, all I had was a vision of a misty cabaret in which I share a story using song and acting as my medium.
Once we got to talking, we definitely clicked! We started chatting all about our past theatre experiences and what each of us did at A&M.
When we got down to business, we had so many questions. But first thing was first. I needed to:
Enroll in the directed studies course & create the grading criteria
We went to talk to the academic advisor again, and she gave us some paperwork to fill out. To get the directed study approved, Professor Quackenbush and I determined a couple of things.
What is the project & its name? (random requirement . . . (1) I used something generic like Grace's Senior Cabaret)
How many credits will it be worth?
How will I be graded?
What is the budget?
Since we were both new to this whole cabaret for college credit thing, we asked the Performance Studies department head for examples of other directed studies in the past and used his grading criteria as inspiration!
(2) I only need 3 higher level credits, so that was an easy decision.
(3) What would I submit to my faculty director for evaluation?
Plus a timetable for delivery:
Final calendar, space confirmation and rehearsal breakdown due Aug 30
Accompaniment/technological support confirmed by Sept 4
Concept due Sept 6
Song list due Sept 9
Research and autobiographical dramaturgy due Oct 10
Rehearsal reports due every Friday: Sept 20 through Nov 8
Show dates: Fri Nov 15, Sat Nov 16*
Post mortem and final research paper due Mon Nov 25
*Show dates changed due to unforeseen conflict!
What criteria for grading will be used?
Timeliness: All written and performance work is delivered on time.
Comprehension: Written work is complete and comprehensive.
Clarity: All written and performance work is clear and comprehensible
Vision: Written and performance work expresses a unique and compelling artistic vision.
We submitted the paperwork ((4) guesstimating the budget as $200) and I was enrolled in the class!
At this point, the whole thing seemed too good to be true. I found an awesome professor who was encouraging me to be creative and perform a show? AND I didn't even have to audition!
Then, the super-fun, yet time-consuming part began. I had to decide:
What kind of performance will it be?
When we discussed the directed study (and after journaling a lot) we agreed that a great way for me to grow as a performer would be to perform a one-woman show all about an incredibly personal story.
She insisted that getting me out of my performing comfort zone would be the fastest way to improve my acting chops! Don't get me wrong, I love performing. Put me in a musical as a lead or in the ensemble– I can do it no problem!
Buuuuuut, singing and acting in front of strangers while telling a personal story that really happened to you? That kind of intimacy was difficult to commit to.
But Quackenbush wanted me to push myself, so I did.
Where will the cabaret be?
Another critical aspect to the type of performance I could pull off was finding a venue! I considered multiple places:
The Theatre Company of Bryan/College Station–the theatre I performed a couple shows with while I was in college
The Village in Bryan, TX– a lovely cafe run by a friend from The Theatre Company
Rudder Theatre–Where my jazz band concerts were held
The Blackbox Theatre in the A&M Liberal Arts Building
My main goal was to find a space in which a small jazz quartet and I could comfortably perform to a small audience.
Bonus points if the space already had lights and mic systems in place!
I started researching each of the above options, and I quickly learned that the only space A&M allows students to perform for free is the Blackbox Theatre in the Liberal Arts Building (smh I could write an entire book at my feelings toward A&M). So, Rudder Theatre was out of the running.
I wasn't sure if The Village had enough space, so I excluded that option. (Now I know that they do–seriously, love that place's vibe and their delicious food.)
It was down to The Theatre Company and the Liberal Arts Blackbox. That decision was also basically made for me because The Theatre Company's stage was just too large and would have swallowed me up. The goal for my cabaret space was intimacy.
So, Professor Quackenbush and I began the process of reserving the Liberal Arts Blackbox Theatre! To do so, we needed to draft a rehearsal schedule and decide the performance and dress rehearsal dates!
Establishing a schedule
I knew that I wanted to have the show toward the end of the semester. I checked the syllabi for my other classes–the most important consideration being to avoid dates when major essays were due. We also had to actually see when the Blackbox was available!
Between my other classes and the dates the Blackbox had available, we decided upon October 25th and 26th.
Finally reserving the blackbox was a huge relief. It also made this cabaret seem even more real. I knew exactly where I would be baring my soul and I had a date by which I needed to arrange the entire thing.
If you know me, you know that I absolutely love organizing things. Making schedules, journaling reminders, brainstorming ideas and organizing them into a chart — love.
Professor Quackenbush and I started on my individual rehearsal schedule by determining how often and when we would meet so she could check on my progress and help me form my showcase. We were both available Friday evenings, so that was an easy decision!
Next, she tasked me with creating a rehearsal/progress check breakdown. For this, I just created an Excel sheet organizing dates, tasks, who was needed for these tasks, and notes.
Here it is to download if you'd like to take a look at my timeline of rehearsals / progress.
The bolded items in the "what" column were the skeleton outline from the delivery timeline I shared above. After putting those dates in (I'm just going to call her Anne from this point on!), I fleshed out the schedule as far as I could plan starting at the beginning.
An obvious thing to add first were the dates we had the blackbox reserved in advance for performances and dress rehearsals.
Then, I worked backward determining when the hard dates were that I needed to be finished with non-negotiables by (memorizing songs & lines, all tech cues decided upon and recorded, all projections complete and edited).
I also added Anne and my weekly Friday meetings on the rehearsal breakdown. As a part of my grade, every Friday I had a "rehearsal report" due in which I shared with her the specifics of what I worked on that week. It really helped keep me accountable as well as giving us concrete things to discuss at our meetings!
A quarter of the way into the semester: What is the senior showcase about??
Once all of foundations were set for my cabaret, the hardest part began: what was I going to do?
I knew that I wanted to sing and act. I did not have enough time to write my own musical (and nobody wants to hear that anyhow). Therefore, I was going to use already written songs.
Anne and I had many looong talks about the concept for my showcase. We bounced ideas back and forth about intimacy and personal stories in performance. At the end of the day, I had to be the one to choose a topic!
After copious journaling and chats with Caleb, my roommates, and Anne, there was one story that continued to speak to me. The one where I fell out of love with another boy and in love with Caleb.
I didn't want to share this story.
Looking back, I was incredibly uncomfortable being honest about how much that breakup had hurt me.
I had a lot of guilt and shame associated with the fact that I fell in love with Caleb very soon after I had fallen out of love with my ex.
I did not want to delve into those feelings of guilt and sadness again. But while trying desperately to find a different topic for my cabaret, I was continually nagged by the fact that my journey toward love was a great story. It's a story that begged to be shared with somebody.
So, I embraced the fact that my showcase topic had chosen me, shared the idea with Anne (who loved it!), and began thinking of songs that would best represent my inner turmoil during the breakup and elation at finding the man I will spend the rest of my life with.
Choosing meaningful songs
All of the songs in my cabaret needed to showcase my musical ability while also telling my story.
I started with listening to the songs I was listening to at the time. During the time I was thinking about breaking off my relationship, there were many many nights I would go to the music practice rooms at my dorm to belt out some jams. (I know, I'm a little dramatic.)
Those were the songs that spoke to me then and that I enjoyed singing–I wrote them on my list.
Next up, I went through all of the jazz pieces I sang with the jazz band class (my ex was a part of) and the Aggieland Orchestra (where I met Caleb). One song that stood out to me from that list was "Cry Me a River."
I have a distinct memory of performing that song at the Palace Theatre in Bryan drawing the entire time on the crappy feelings my breakup made me feel. Nothing better than performing jazz to really get some *angst* out. So, "Cry Me a River" was definitely on the list!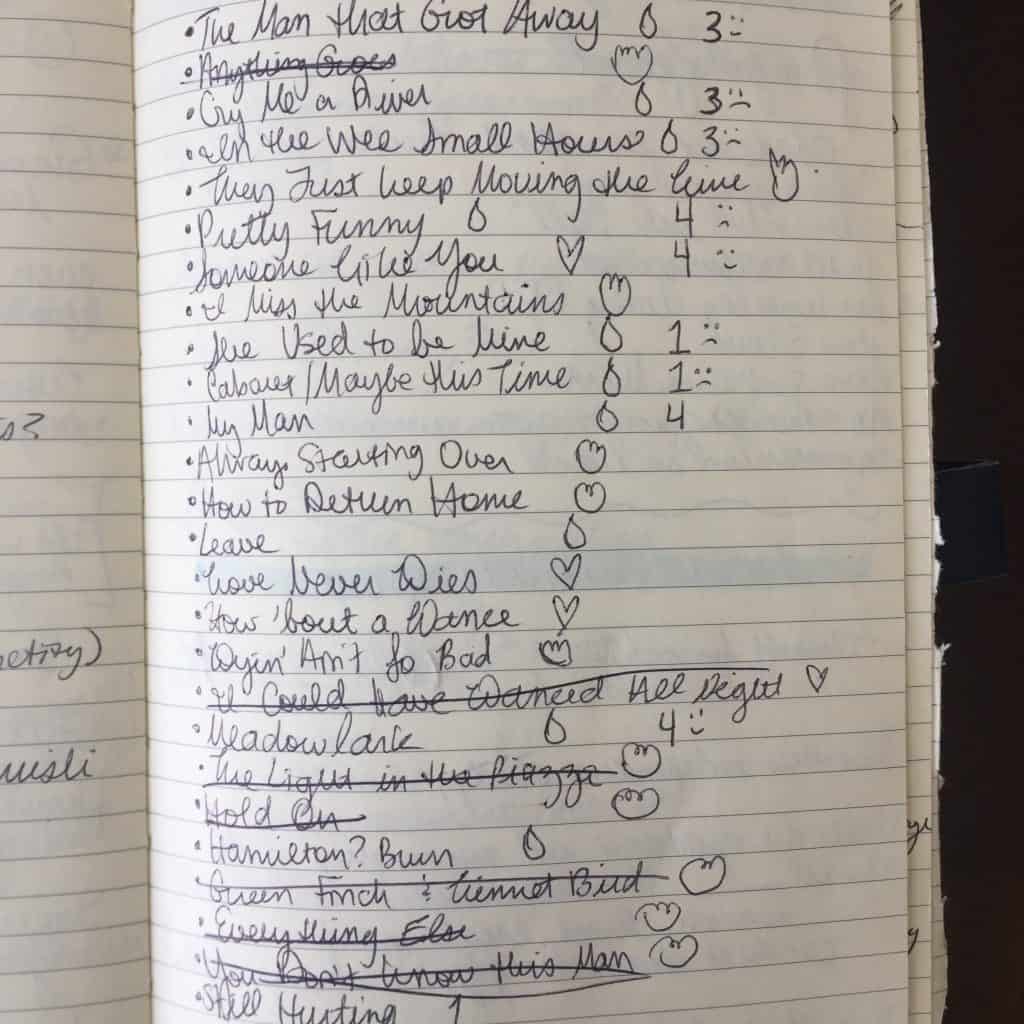 Then I ranked these songs and journaled some more about what each song on the list meant to me. I actually printed the lyrics to all of the song options and annotated on them how they related to my situation.
(I will not be showing that because it's mostly just personal gibberish the internet does not need to attempt to decipher.)
I asked questions like:
Which character am I in this song (the lover, the hurt party)
What does this song mean to me?
How do these specific lyrics relate to my story?
Who am I singing this song to? Why?
After I completed this dive into my emotional past, I ran the ideas and new ideas about my cabaret's story by Anne. She encouraged me to delve deeper in my analysis of self through these songs in the coming weeks.
We also discussed the level of abstraction the character of myself would need in the cabaret in order for the story to be genuinely translated. No pity party in this showcase!
Through my self-reflection in the cabaret, I wanted my audience to feel how I felt. I wanted them to witness the journey from a dark time in my life to the happiness of newfound love.
When choosing songs for your cabaret, be sure that you're not trying to shove a square peg into a round hole. I had many belty songs that I would love to have performed, but they would have distracted from the story I was trying to tell.
(If you're not telling a story in your showcase, choose whatever songs you want! Personally, I think telling a story is preferable to a random assortment of pieces, though–don't you want to share something meaningful with your audience as well as entertain them?)
To illustrate the transformation in my story abstractly, Anne and I decided to integrate projections and lighting moods into my cabaret!
Multimedia . . . so difficult, yet so worth it
The semester before my cabaret, a grad student at A&M integrated projections into his guitar showcase. It received amazing reviews from everyone!
My idea for the projections was for me to watch them along with the audience. Kind of meta moments in which the audience is witnessing me watching myself–the type of introspection that my cabaret was all about.
We also wanted to include lighting and sound design to enhance the journey into myself. Instead of explaining what I was thinking about to my audience every time, I included snippets of actual videos taken of Caleb and I and various other real memories along with a couple short explanatory monologues.
Along with the projections and memory sound cues (like Dona Nobis Pacem, the voicemail), we outlined a simple lighting color mood for the show.
When I was sad or guilty, the lights were dark blue
When I was angry or frustrated, the lights were red (these feelings were also symbolized by the Lady in Red alter ego we created for me)
When happiness began to creep back in, the lights were purple
At the end of the show when everything turns out good, we brought up the level of all the lights (including the house) and kept the purple in the background
I had a great time figuring out this artsy way to get my audience to actually see the emotions I felt in addition to hearing me talk/sing about them.
The red in the dress symbolized how I suppressed my acceptance that I made the right decision (breaking up with my ex) beneath guilt and anger.
The blue couch was my 'home base' for the show that transformed from a place where I was constantly haunted by my past (the dress was on a form right next to the couch) to one of safety and peace.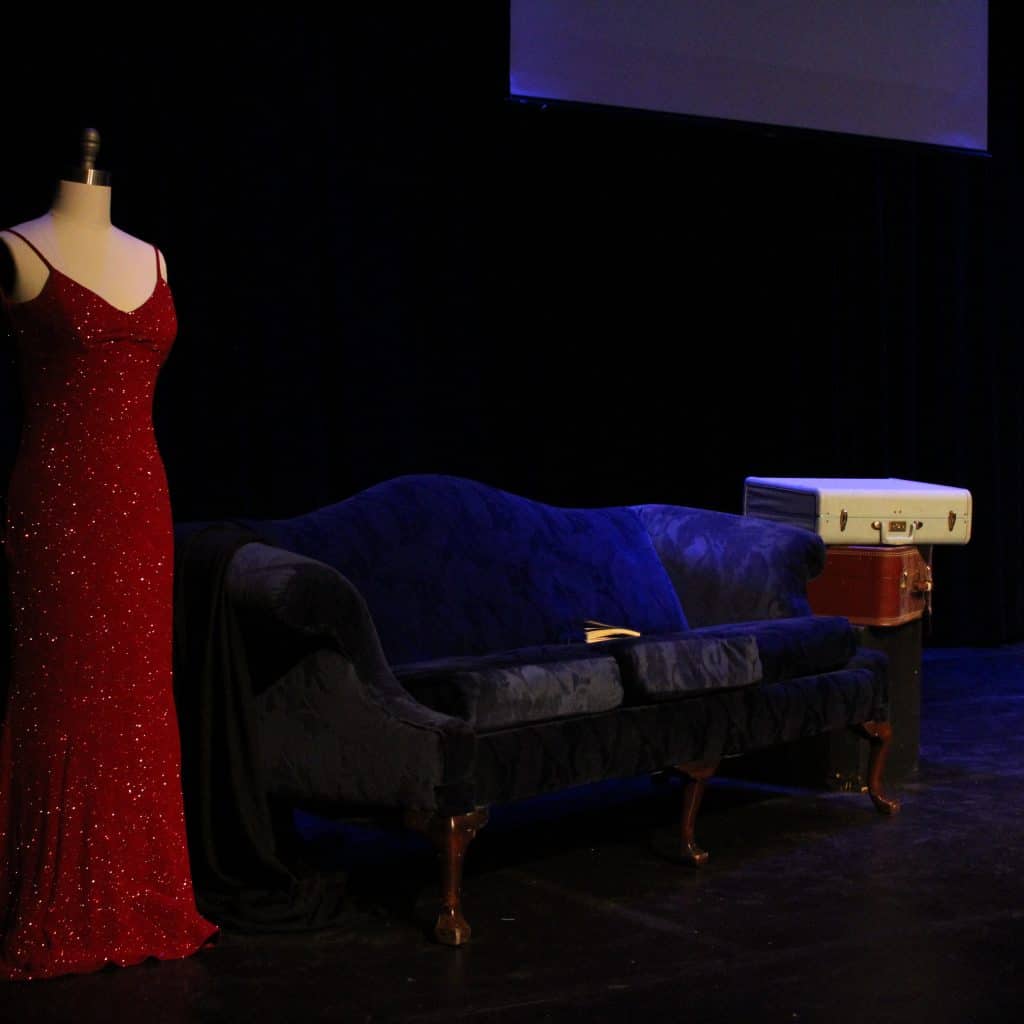 There are so many other directions I could have gone with my lighting and projections, but these were the ways I felt worked best with my story. I highly recommend delving in to technology to enhance your showcase if at all possible!
Getting a volunteer band together
Paying for professional musicians was absolutely out of the picture because of my very limited budget. Lucky for me, Texas A&M is filled with students who are incredible musicians.
Figuring out what instrumentation would work best for all of the songs I chose was a difficult decision. I decided that a quintet made up of guitar, upright bass, tenor sax, piano, and drums would be best for the jazz tunes I sang. For the musical theatre pieces like "She Used to Be Mine," I simplified the group by cutting the saxophone and upright bass. For "Meadowlark," I decided it would be easiest to have just me and the piano.
I reached out to many talented musicians I knew. A couple were from the Theatre Company and the rest from the jazz band class for which I sang. After lots of denials, I finally compiled a group of five musicians all from my jazz band! (Unfortunately, our tenor sax player had to drop a couple weeks before the show. Fortuitously, my pianist was also a stellar sax player!)
After I briefly messaged them about which songs each instrument would play in and asked them to check out my Spotify playlist, we set up rehearsal times. This worked out beautifully as my husband was in town that week and able to help me arrange the band's parts right before the first rehearsal! (Thanks honey!)
At the first rehearsal, I distributed their sheet music and we had a couple playthroughs of each song. While Caleb helped them fit the musical parts together, I focused on practicing my singing part!
Once the initial wrinkles were ironed out, the pieces started to sound really great! Nothing compares to jazz musicians when it comes to sight reading and improvisation!
Every rehearsal afterwards went pretty smoothly! We decided on the clothes they would wear, and a couple weeks before the show, I gave them a dress rehearsal / performance timeline.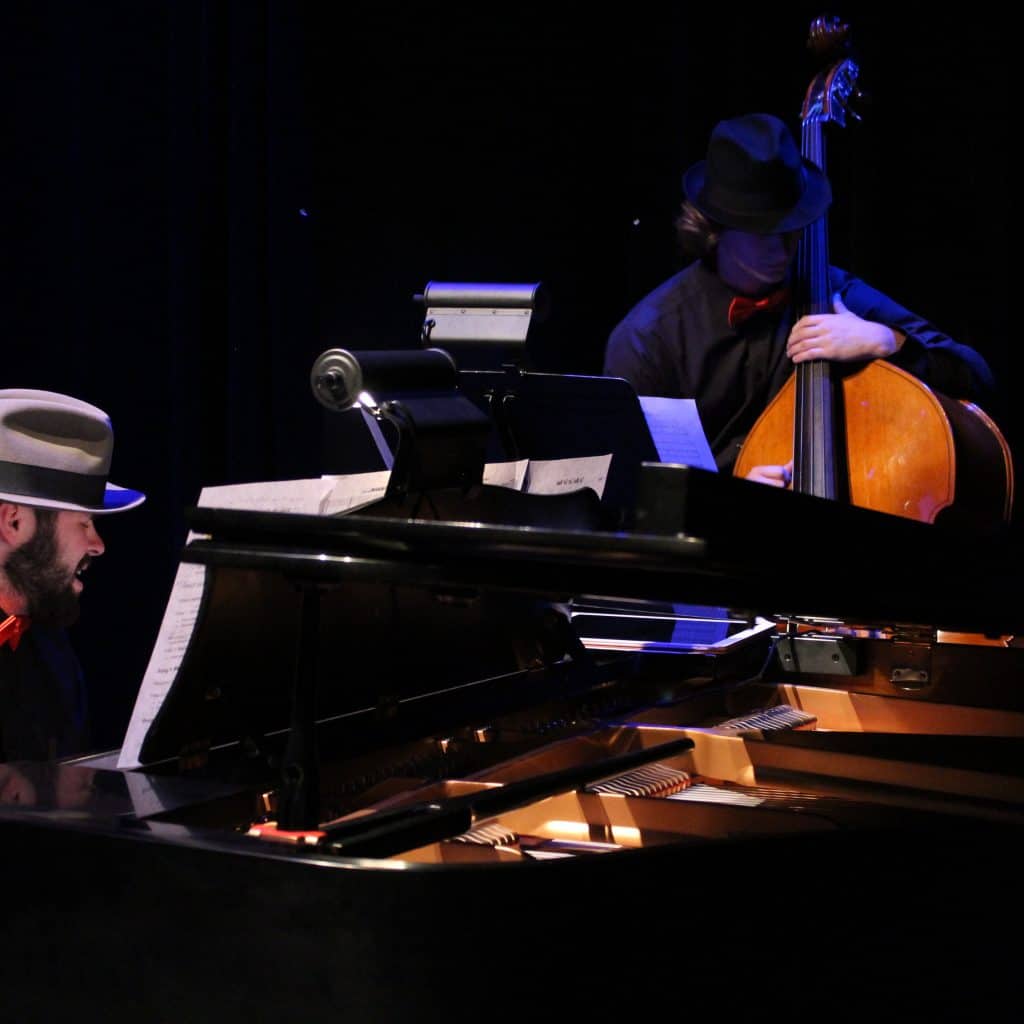 More Technological Considerations
Since I had big plans for projections and microphones and lighting and sound cues, I needed some technological help! Luckily, I was taking a recording and production course that same semester and the gal I was sitting next to, Morgan, said she would be able to run tech for me!
Sound & Projections
Morgan was legit amazing. She had lots of experience from running sound at her church, so she knew how to do all of the things that were much too hard for me.
Long story short, we sat down with all of the videos and sound cues I wanted in the show and she was able to edit them together into cues. She was also free to set up and run my microphone on show nights!
Such a blessing.
Equipment
I also had to ask Dr. Moeller to check out a lot of equipment (thanks to him for trusting me and Anne with all of his expensive things):
Microphone receiver
Lapel mic
MAC computer (I'm a Windows user)
Sound board
XLRs out the wazoo
Stand lights for the band
Stands & chairs
He also turned off the monitors we weren't using to reduce the room sound and make sure we didn't get feedback. There was only one time in the show that the mic fed back which is pretty amazing considering I was standing in front of the monitors.
For all that Dr. Moeller did for me, I did contribute to his life in some way by converting his lapel mic into a head mic with some medical tape (#theatrethings).
EVERYTHING ELSE
Jeff. Watson. is the best! Whenever Anne and I had any crazy questions or requests (do you have a couch anywhere?), he was there to answer them! He even suggested we talk to his student worker, Josh, with help programming the lights. (I had no clue how to do that, and Anne wanted to be able to see them from the audience when recording the cues).
Our cue-to-cue was fantastic thanks to Josh and Jeff.
Basically, the only reason I was able to pull my cabaret off in the amount of time that I did was because of the rockstar performers and technicians I found.
The Lady in Red
You know how I mentioned how the Lady in Red symbolized some of my more negative feelings? When Anne and I created this alter ego of mine, we went all out. And let me tell you, it was so much fun.
It was down to a couple weeks before the show. Anne and I decided that we needed footage of the Lady speakeasy style to start off the show. That meant I needed to find somebody talented to film and edit footage of me as the lady.
So, naturally, I went to the on campus film club, SWAMP! At the end of their meeting (which was really fun), they opened the floor for anyone with projects they needed help with.

I shared what my project was, and found an awesome guy named Austin to help!
Next, I called a speakeasy themed bar in Bryan, Texas called 5 Knocks to see if I could use their space for the video. They said yes!
Anne, Austin, and I worked out a shooting date and brainstormed what the video would be like. Austin and I scoped out 5 Knocks and outlined which shots we wanted.
Once the night of shooting arrived, Anne did my makeup and hair all glamourous and I donned my flashy red dress. (Only vintage from the 80s, but it gives that nice jazzy, cabaret feel!)
We recorded me walking down hallways and up alleys at night and then singing in the speakeasy basement of the La Salle Hotel–5 Knocks. It was a total blast. I've loved getting dressed in costume and pretending to be someone else ever since my sister and I played the Lion King on our stairs.
A Bit of Advertising
To be honest, I didn't advertise for this showcase as much as I should have. I let my friends and family know about it as soon as I knew what day the performances were on. I let my classmates and professors know about it. Some professors sent emails to their students and there was an email sent (I think?) to all of the performance studies majors and minors.
Anne and I also designed some cool posters and a playbill: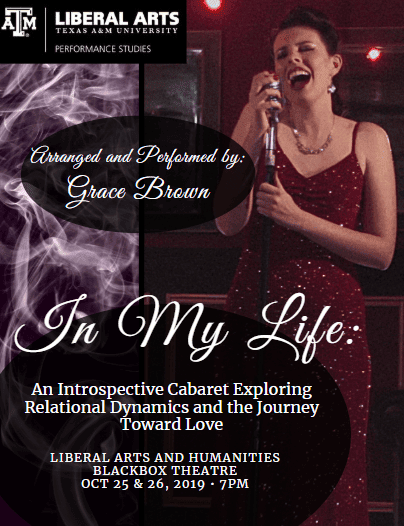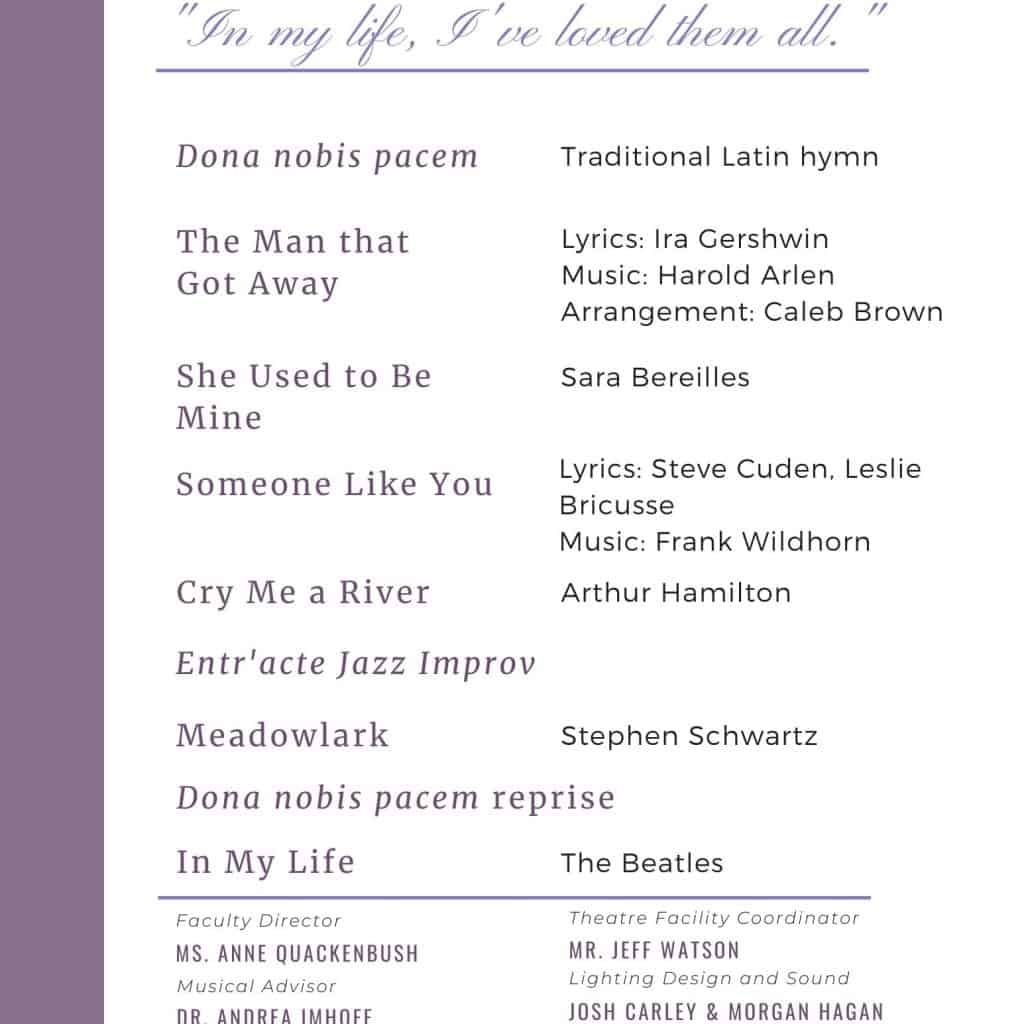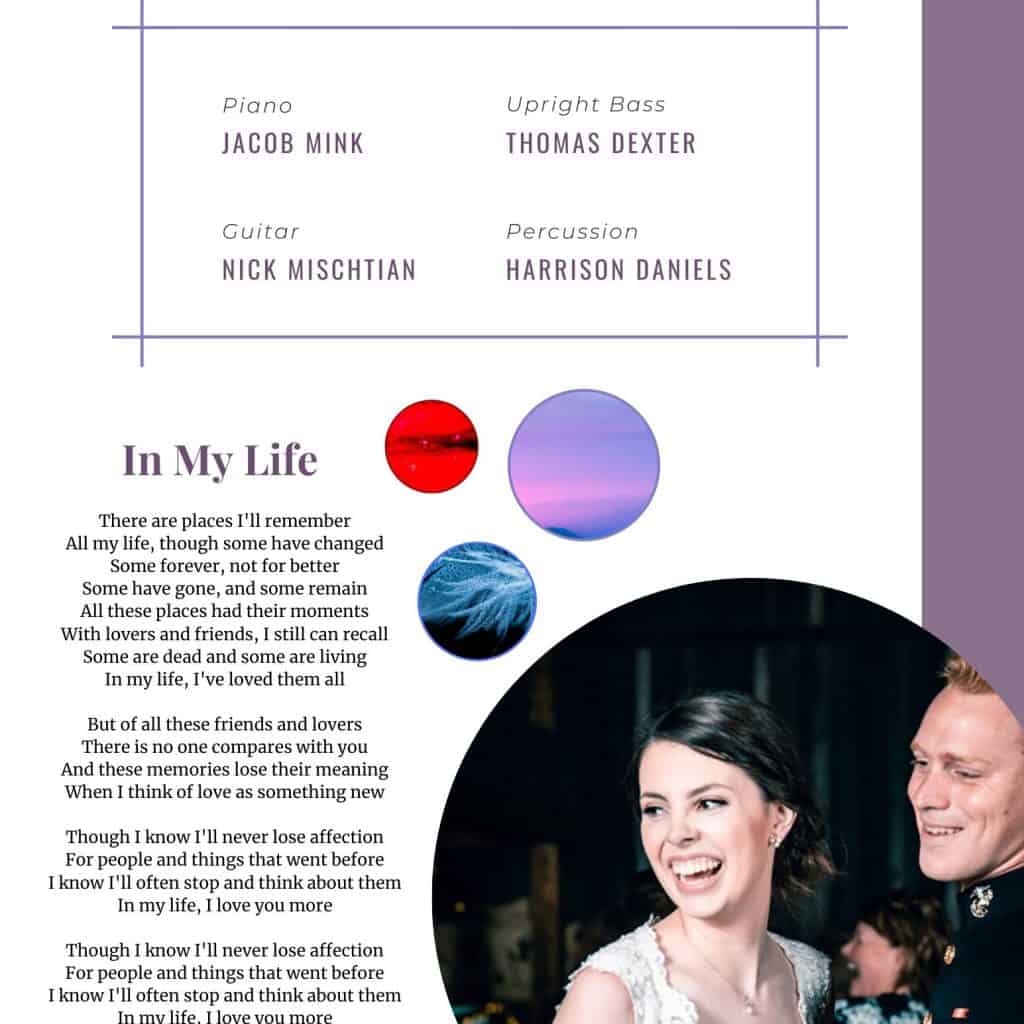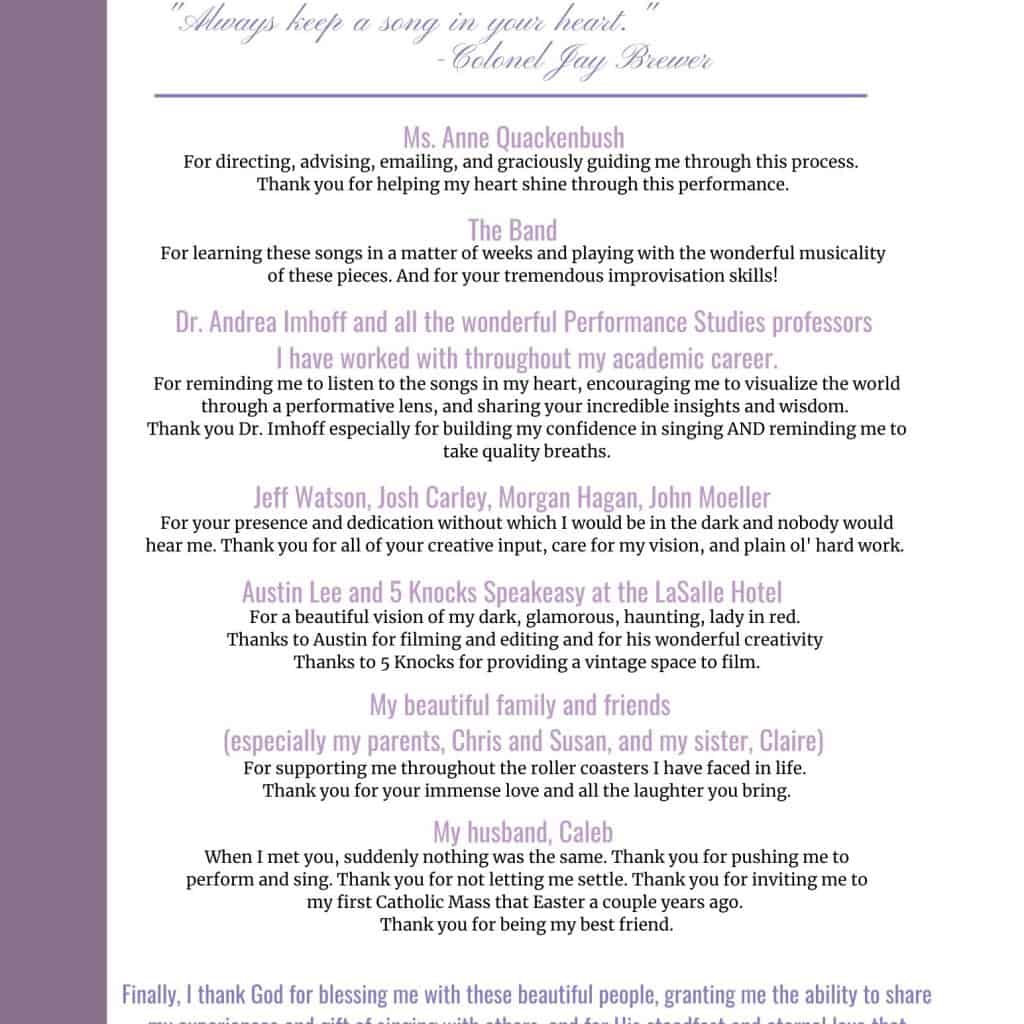 That was basically all of the advertising we did. Unfortunately, the seats were not even close to being filled either night. But, who cares! More on that in a little bit!
Finishing Touches to my Cabaret!
A week away! My songs were all memorized and practiced (with expert musical advice from Professor Imhoff). My band and I pushed a grand piano into the BlackBox and set up the drumset. There was only one more thing to coordinate.
Ever since my meeting with the SWAMP film club, I was looking for somebody to create an animation to my second-to-last song, "Meadowlark."
It wasn't until one week before we opened that I found a friend of a friend who said he could do it! That friend, Jett Turner, created an astonishingly beautiful animation set to the song (really really short notice)! Seriously, he's amazing.
Incorporating it into the show was borderline miraculous as the animation rendered 30 minutes before we opened the house . . . but it was worth it! We simply rehearsed with it a couple times, and it synced with the tempo we were taking the song at as planned!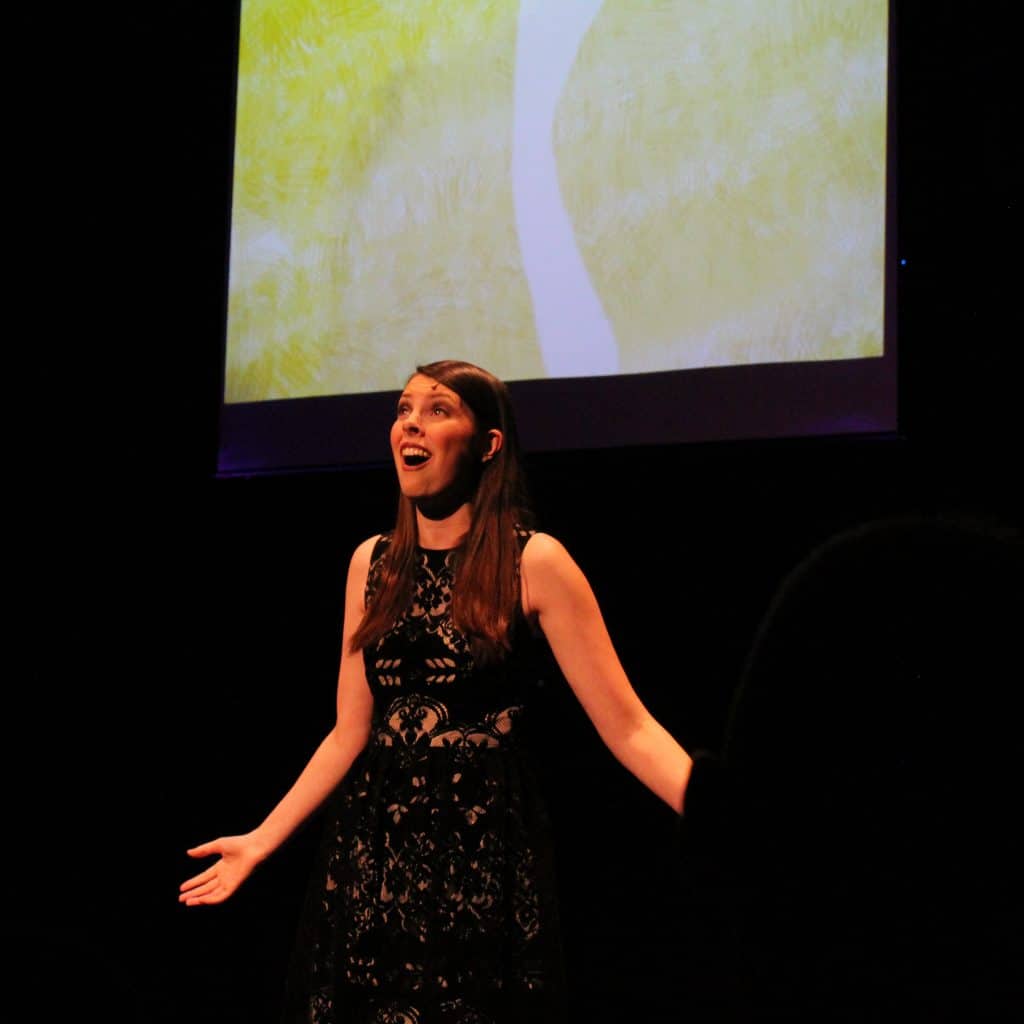 All of this preparation came to its grand conclusion with the actual shows!
I had such a great time. I got to sing some of my favorite showtunes while also conquering some major pre-show anxiety. PLUS I had a bad cold (that always seems to happen to me).
The experience was so fantastic regardless of who was listening. It was a blast just singing with the wonderful people onstage with me (Jacob, Nick, Harrison (percussion), and Thomas (guitar)) and being illuminated by the lights and sound (run by Anne and Morgan).
Final thoughts
(It wasn't simply for fun, I gained so much musical and performative confidence from the showcase.)
Like I said before, it did not matter that the seats were not filled.
It mattered that my parents and grandfather were able to come see the show. Many of my friends were also able to make it!
Though Caleb was already in Virginia, he and all of my other family and friends were able to see it through other means!
From what people told me, they really loved the showcase.
Though she didn't directly tell me, my showcase moved at least one woman. A lady I don't know was quietly crying in the audience at the end of my show (when Caleb proposes to me & I sing Dona Nobis Pacem).
I hope she got something really great out of my cabaret's story. But who knows?
That's part of the magic of theatre. So much work from so many people was put into this senior cabaret for the official reason: earning some college credit. But it wasn't just for the credit.
The mirror I held up to myself throughout the creation and performing of my cabaret not only produced a performable story but also showed me that I needed to forgive myself for the way I broke off my past relationship.
There were some serious emotions that I had not yet dealt with. This show (and talking with Anne!) was some serious therapy.
At the end of the show, I teared up singing the Dona Nobis Pacem round. Remembering the memories I have associated with that song coupled with sharing my memory of Caleb proposing (whom I already missed dearly since he moved to Virginia) was a beautiful catharsis.
This was a huge project. It took a lot of time from my final semester of college, but I wouldn't want to finish college any other way.