Hey there! Audition anxiety happens to all of us (I happen to get it really bad). But there are some methods of preparation and wonderful #truths that I would like to share with you to assist you in letting go of some of that inner tension.

Here are my top 10 confidence-boosting tips for musical theatre auditions.

This is my mantra for every audition I go to. Ready?
1. The directors want you to succeed.
At first, that might sound like a no-brainer. The directors want the best musical possible, so it follows that they would want to select from a pool of very talented, successful auditioners. You've got to enter the theatre with the mentality that the strangers who are about to judge you are not your enemies! This usually helps my butterflies flutter away.

The fellow auditioners and directors (everyone there!) are musical theatre enthusiasts and frequent performers just like you. Depending upon the personality of the directors, the audition can be lighthearted or very serious. Unless they take themselves much too seriously, they are going to be thrilled when they hear you rock your audition!
2. You are not expected to be perfect.
Even Broadway performers drop the ball sometimes (just Google Broadway fails–I assure you you will be enlightened and entertained). Do not strive for perfection. Strive to showcase your talent to the panel of judges (who want you to succeed)! If the tempo of your song is a little fast or you mess up a part of the dance sequence–don't sweat it.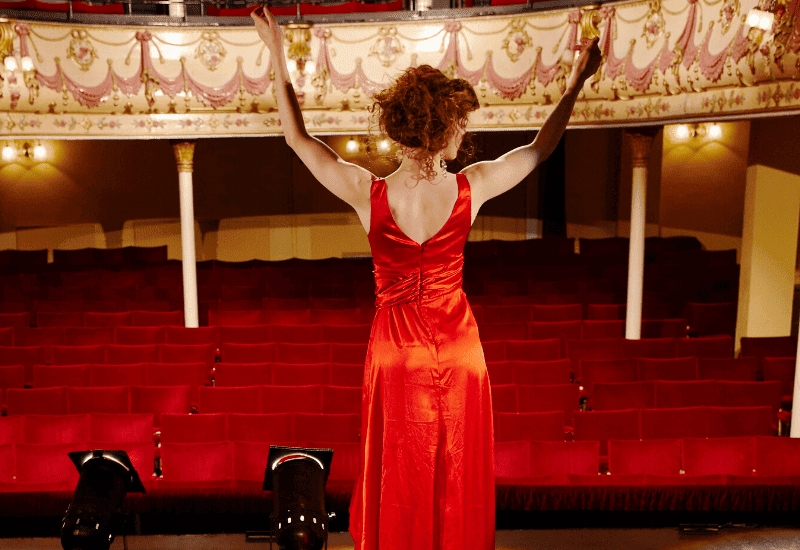 Speaking of not sweating mistakes . . .
3. Don't get into your head!
There are numerous books written about the topic of performers losing focus during their performance because of negative self-talk. Allow mistakes or less-than-perfect circumstances to increase your focus and determination to perform for the directors.
If you dwell on a mistake for the rest of your audition, it will show in your performance. Your eyes and facial expressions will be off AND you will likely make another mistake!

To avoid making mistakes entirely . . . practice.

4. Be prepared!
Legendary football coach Vince Lombardi said: "Perfect practice makes perfect." If you did not practice good behaviors and techniques before your audition, it is not going to magically 'happen' during an audition or performance.
This quote is well-meaning, but it is not an absolute rule. Like I said before, you should not strive for perfection. If making one mistake means you do not achieve your audition goal, it can throw off your entire audition (see tip #3).

If you have been practicing this audition song well (I mean, with proper technique, movement, emotions, correct accompaniment, & slating) for weeks or even months, you can step into that audition room knowing full well that you are ready to rock it. Talk about confidence! If you've done it dozens of times before in front of different people, the added stress of an audition is diminished simply because you know that your muscle memory is solid!
If you're still not sure about what audition song to choose, check out my audition song quiz for some ideas!

5. Check and double-check the date, time, and location!

Auditions are stressful enough. Being late to an audition because you did not know the right time or location adds an immense amount of pressure onto your back! Being late does not give a good first impression on the judges which is very important (especially at a new theatre when it's the first thing they know about you!).

Don't cause extra audition-day stress for yourself. I usually make an event on my online calendar for the audition with the date, time, and exact address. Check on Google Maps or even Google Earth to see exactly where you can park and where you are walking into the audition. I usually drive by the theatre building itself to get a feel of the building/parking situation.

Parking is often a huge part of the on-time battle. Make sure to investigate the free parking situation near your audition site. If there is none, be sure to determine how much money you will need to pay to park nearby.
6. Eat Something.
If you get an anxious stomach like I do, eat a small snack before you go. I am gluten-intolerant, so I go for gluten-free items such as peanuts, GF crackers, or a light fruit like a cantaloupe or a banana.

Don't eat something that will weigh heavily on your stomach: ice cream, pizza, or pasta.
Do eat something that will keep your stomach from growling and getting upset.

ALSO, make sure you start hydrating days in advance. You need to be hydrated to avoid the headaches and weakness associated with stress and dehydration.

Don't drink alcohol or milk the night before an audition!

Do drink plenty of water and eat a healthy breakfast.
7. Pack your audition bag the night before.
You should check the theatre company's FAQ page or social media account to stay up to date on any announcements / requirements they have. It's important to know if they want specific shoes for the dance call. Don't show up in jazz shoes if they specifically ask women to wear character shoes!

If you're not sure what to bring check out my free audition checklist.
On the day of, if you can simply focus on warming up your voice, running over your audition song a couple of times, and heading to your audition on time, it will greatly decrease your stress level.
Knowing I am all packed and ready helps me sleep better too . . .

8. Get some sleep!
I know.
It's hard to get to sleep when you have a big audition the next morning.
But it's so important to get a good night's sleep so you can function!
I always have lots of thoughts swimming around my head the night before an audition. I would suggest not checking your clock while trying to go to sleep as that can, ironically, increase your anxiety about not getting sleep.
Plan to get the recommended amount of sleep for your age (you can Google this). If you can't fall asleep I suggest:

Listen to some calming music.

Allow yourself to go over your song one or two times. Enough to be confident in your preparation, but not too much so you are engulfed with stress.

Praying for peace. There are some beautiful "serenity prayers" out there that help to relax me tremendously.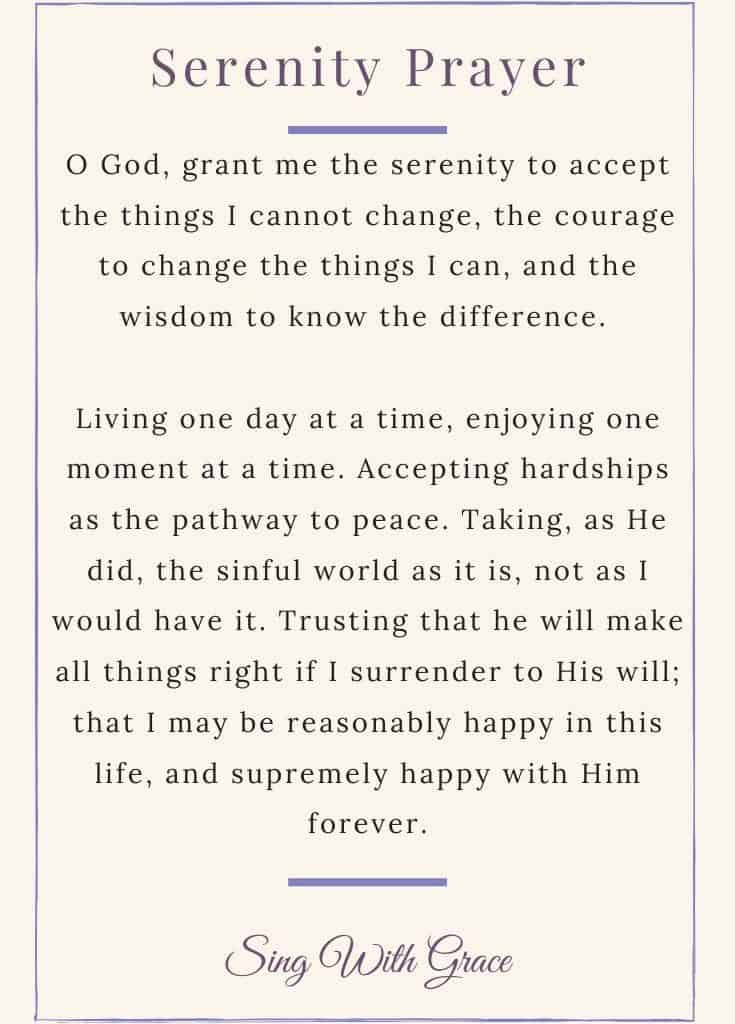 If you plan to sleep well the night before, you will be well-rested when your alarm goes off the next morning. Having enough sleep will help you be engaged in your performance and less prone to mistakes.

9. Don't compare yourself to others

This is a great detraction from most people's confidence. If you are in an audition scenario with others and you know you are prone to compare yourself to other performers, do not listen to their performances. Run over your own song in your head. Check that your audition cut is marked clearly in your audition binder.

Don't fall into the trap of comparing yourself to others. Also, be wary of thinking negative thoughts about other peoples' performances to make yourself feel better. Contemplating others' failures or mistakes will only invite negativity into your heart which is not what you want!
These are the people that are trying just as hard as you to get into a musical. These might be people who get cast instead of you or with you!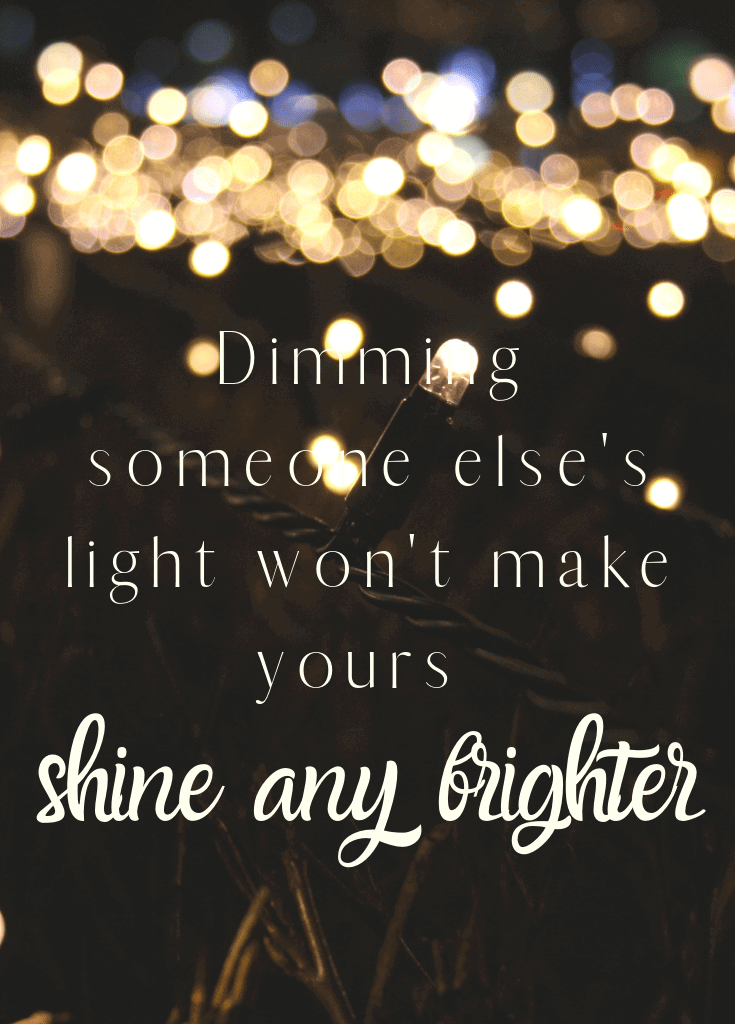 I love this quote. It sums up the importance of focusing on the positives of others' performances (after all, don't you want the support of those listening to you as well?)
We made it to my final confidence boosting tip:
10. Decide before the audition that you are okay with whatever happens.
Allow yourself to accept that you might make a mistake. Come to terms with the reality of auditioning for any performance: you might not get cast. No matter how perfect you feel you are for a part, you might not get it . . . and you need to be okay with that before you audition.

Decide whether you will accept an ensemble role or not. Make sure that pride is not a factor in this equation. Oftentimes, there is an information sheet you fill out before the audition, that gives you the option if you want to be cast in the ensemble. There's no shame in choosing you would prefer to only be cast as a supporting character/lead!
If for any reason you do not want to be in the ensemble, do not do it.
If you check the 'I prefer not to be cast in the ensemble' box, be sure that you can handle that added stress. If you allow your audition to be clouded by the "I have to get this role" mindset, audition stress will remove all the fun from auditioning. Yes, I said it . . . fun!

Have fun at your audition!
You are getting to sing for others. You get to meet fellow theatre-lovers. Often you get to learn an audition dance! Go into the audition with the mentality that whatever happens, you will gain invaluable auditioning experience! After all, the only way to get good at auditioning is to practice doing it. As with everything in life, be grateful that you get to audition for this musical. You could get the part you are going for! You could be cast in a role you never thought you would like, but end up having the best time.

In high school, I auditioned for Once Upon a Mattress my senior year. I wanted to be Winnifred so bad because I felt her vocals matched my skill level and I wanted a dancing challenge. I ended up being cast as Lady Larken and LOVED IT! I found Lady Larken to be a delightful character to play and sing. As the token belter at my HS (Trix the Aviatrix in The Drowsy Chaperone, NYC Girl in Annie😂) I had never gotten the chance to sing more soprano-y solos, but I had a great time doing so with Larken. If I had shut down after not being called back for Winnifred and let my pride engulf me during my Lady Larken callback, I could not have acted in the sweet and silly style her part calls for.
I could have missed out on a wonderful opportunity to play one of my favorite roles to date.
That's it! I hope that these tips help you boost your audition confidence. Please comment below if you have more confidence boosters that you would like to share!

Break a leg!
Grace Brown